Edith Ann Pavlat Offield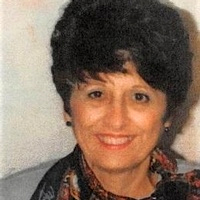 Edith Ann Pavlat Offield passed away on February 26, 2019, to be with the Lord. She was born in Belton, Texas on May 15, 1934, to Frank and Annie Pavlat. She graduated from Dayton High School in Dayton, TX, before working for Bell Telephone Co. in Liberty, TX, as a switchboard operator. She then moved to Houston, TX, where she worked for Gulf Oil Co., and married her lifetime sweetheart, James Dale Offield, on June 14, 1958. They were together for the next sixty years until her death.
Dale and Edith lived in Pasadena, TX, eleven years, where Edith was very active in the Beta Sigma Phi society, where she became vice president, and later president. One year, she made one hundred fruit cakes to sell before Christmas in order to make money for the society. Edith enjoyed interior design, was a master gardener, and would often make oil paintings to decorate her home. She also became a realtor but moved to Saudi Arabia before she could sell any homes.
Edith and the family moved to Saudi Arabia in 1973 when Dale started working for Arabian American Oil Co., today known as Aramco. While living overseas, Edith was involved in all kinds of activities. She was the President of Beta Sigma Phi Society, a member of a gourmet food group, won first place for her flower arrangement in the Garden Club, played bridge weekly with other Aramco women, and was also interested in travel in the Middle East. She often organized and led travel groups to different countries for employees during the holidays. She also went with a group of ladies to Iraq just before the Desert Storm war started in 1991. Edith also made many other trips around the world during the family's annual vacations. She was the life of the party and dressed the part from head to toe, always!
She moved back to Austin in 1995 when Dale retired and lived there for fifteen years. Edith continued playing bridge with the same group she played with before she went overseas and found another gourmet group to join. They cooked to see who could prepare the best and most unusual dish; she was an excellent cook and enjoyed cooking.
From Austin, her and Dale moved to the Army Retirement community in San Antonio, TX, in 2013. She enjoyed shopping and decorating her new home before she passed away. Edith is preceded in death by her parents, Frank and Annie Pavlat. Edith is survived by her husband, Dale Offield; son, Donald Offield; daughter, Kimberly Andrus; daughter, Karen McIntosh; three brothers, Frank, Steve, and Ray Pavlat; and five grandchildren, Niki, Christian, and Stephanie McIntosh, Alex and Conner Andrus, and many close friends.