Edward Daley Rasmussen Sr.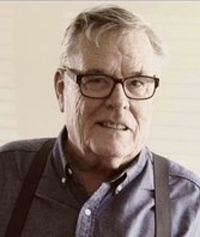 Edward Daley Rasmussen Sr. died on January 13, 2021 in Livermore, California surrounded by his seven children. Ed was born on December 22, 1937, and grew up in Redding, Connecticut. His home ties remained strong throughout his entire life. At age 70, he wrote and compiled many of his childhood stories about growing up during wartime. The stories often included his mother- Helen, father- Henry, sister- Shirley, and brother- Hank – as well as his beloved donkey, Clementine.
He married the love of his life, Margaret Mary Lynch of Danbury, Connecticut on June 25, 1965. His work took them to the West Coast where Ed worked for Pan Am in San Francisco; in 1968, Ed and Margaret moved to Dhahran, Saudi Arabia where Ed worked for Aramco. In 1974 they settled in Dublin, California where they raised their seven kids. Ed and Margaret were long time parishioners of Saint Raymond Catholic Church in Dublin where Ed was a founding member of the John C Murphy Council of the Knights of Columbus.
Ed was an Air Force Veteran. He retired as a flight engineer from Chevron after 25 years. He loved sharing stories about his extensive travels around the world. He inspired his kids to travel and to see the world.
He was imaginative and enjoyed working on projects for his kids and grandkids. Some of his legendary creations included the candy shooting cannon, a zip line rocket ship, castles, playhouses and so much more.
He was a loving son, husband, brother, father, uncle, and grandfather. He was proud of his children and relished in their many achievements. His family and friends will remember his kind nature, good humor and adventurous spirit.
He is survived by his seven children: Ed (Beth), Paul, (Leanne), Annelise (Pete), Jim (Alyse), Larry (Kristin), Monica (Bourke) and Stephen (Maggie); as well as nine grandchildren.
A socially distanced Funeral Mass will be Friday, February 26th at 9:30am at St. Raymond Church in Dublin. If unable to attend in person, please view the live stream by searching Ed Rasmussen Mass St Raymond at YouTube.com. Ed will be interred with his wife, Margaret, at the Sacramento Valley VA National Cemetery in Dixon, California. In lieu of flowers, please consider donating to St Raymond Church.