Frank Joseph Pietrowski Jr.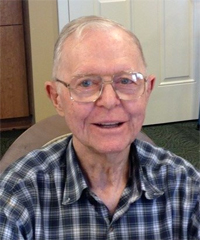 Frank died of natural causes on March 13, 2018 resulting from many years of impaired functioning due to the effects of Alzheimer's disease. Born in 1922 Frank was one of 3 children born to Frank Joseph Pietrowski Sr. and Rose (Grennon) Pietrowski in Forest Hills, New York. His 2 sisters Joan Bramley and Francis Capps both predeceased him. Frank is survived by his two sons Frank and Ray and his two grandchildren Christopher Rivers McCown and Sarah Kaitlin Luke.
Franks father had eight sisters, so there were many aunts and uncles around during his formative years. All was well during his early years in the "Roaring 20s," ages 0 to seven.
In 1929 life changing events took place with the crashing of the stock market and the rise of the great depression. With soup kitchens and poverty all around, Franks family banded together along with aunts, uncles and other family members in one apartment. Franks first job was selling Saturday evening post on the streets of New York and made a penny a piece. which he said was good money in those days. He attended St. Francis Xavier High School in Manhattan graduating in 1939, then went off to college in Troy, New York at Rensselaer Polytechnic Institute where he went to school and graduated with a degree in civil engineering.
WW2 started in 1939 to September 2, 1945. December 7, 1941, the US entered WW2, Frank was in his sophomore year at Reseller College ROTC on the rifle team and picked up the nickname "Pistol Pete". In his Junior year the military took over the college and most studies supported military activities. Upon his graduation from Rensselaer in 1943. He was involved in a major car accident splitting his kneecap and making him ineligible to enter the service. Instead, he was sent off to California to re-engineer aircraft problems for the Navy working on the Vought F4U Corsair Navy Fighter.
In 1944 Frank returned to New York taking a job with the newly named Arabian American oil company or Aramco. His first assignment was to board a freighter for its 28-day voyage from Philadelphia to Saudi Arabia. As WW2 was still going on, ships were still being sunk by torpedoes. This was not a safe voyage. At his departure, his mother gave him a St. Christopher medal for protection. He has worn that miraculous medal daily since 1944 and will be buried with it.
He worked his entire career with Aramco. He engineered some of the first housing for the American base camp and became very aware of major differences in Catholic vs. Muslim values and ways of life. There were many jobs the Muslim Saudis could not do due to their devotion to their religious beliefs. In the early days, Frank had to go to the neighboring country of Bahrain on the weekends to attend Catholic mass.
Frank had a front-seat view of the change from Bedouin tribes of the 1940's to the ultra-modern cities of today. He worked through seven Saudi Kings and 12 US Presidents. He told a story of his arrival in Saudi. It was nighttime and the customs office was a freestanding shack with no electricity. So his bags were placed on the sand in front of a car's headlights and were searched. Boy have times changed.
Frank worked in Saudi, Holland, Rome, San Francisco, Alaska, New York and finally moved to Houston with his family in 1974. He met his first wife, Betty (Dunn) Pietrowski, wife of his children, when flying back and forth from his assignments overseas. She was a stewardess and cover girl for the Aramco magazine. They were married in 1954 in the Vatican in Rome. Betty and Frank had 3 children Susan Elizabeth Pietrowski, (deceased) Frank Thomas Pietrowski and Raymond Charles Pietrowski. Betty passed of lung cancer in 1977. Frank was remarried to a widow Mary Burns in Houston who had a family of her own. They spent many wonderful years together before Mary's health declined. Mary predeceased Frank by 8 to 10 years.
At the age of 95, Frank had raised a family, traveled the world, been part of major cultural changes in the world - building aircraft, housing, refineries, and tinkering in many other areas. He truly enjoyed the game of golf and devoted several days a week to this after his retirement. Frank spent the last years of his life living at Belmont Village Hunters Creek where he benefitted from their Memory Care, Dementia and Alzheimer programs.
Flowers are not permitted in the church during lent, so we ask that donations are made to the Alzheimer's Association or the charity of your choice. Thank You.
Visitation Tuesday 3/20 4:00 to 8:00 pm Vigil 5:30 - 6:00 Earthman Funeral Directors Dignity Memorial 8303 Katy Freeway, Houston, Texas 77024 On eastbound feeder road between Voss and Chimney rock 713-465-8900. Funeral Mass Wednesday 3/21 10:30 AM St. Cecilia's Catholic Church, 11720 Joan of Arc, Houston, TX 77024, (off Bunker Hill) 11:45 AM Escorted funeral procession to Cemetery 12:15 PM Burial Service Forest Park Westheimer Dignity Cemetery 12800 Westheimer Road Houston, TX 77077 Westheimer and S. Dairy Ashford 1:00 Gathering to be announced after Burial Service.