Geryes El Ammar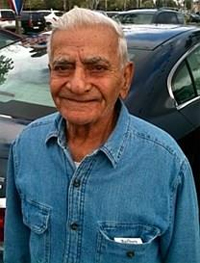 Geryes El "George" Ammar was born in Haifa, Palestine on 12/10/1928, one of 8 children to Khazne and Elias Ammar.
He was childhood sweetheart to Laurice Dalli, and they were married some 60 years ago.
They were the proud parents of five beautiful children.
George's occupation was as a pipe welder in various countries in the Middle East for the oil company Aramco.
He lived most of his adult life in Beirut, Lebanon, and for the last 16 years in the USA, a country which he admired and loved.
George had a great love for his family, his friends, and for his Lord in Heaven.
He loved to take care of his yard and his home. He loved all animals with a gentle heart.
He will be greatly missed by many friends made over many years.
He was preceded in death by his parents: a son, Foad, brothers and sisters...and by his wife, Laurice. He is survived by a sister, Rose; Sons Elias (Vickie Lind) Ammar; Imad (Marie) Ammar, Michel Ammar, daughter Marie Therese Ammar, and granddaughters Rita and Pamela.
George's gentleness and kindness were an example to all who knew and loved him.