Gordon Kermit Flom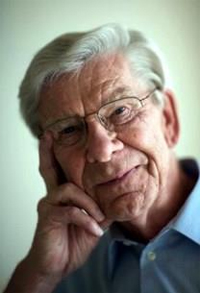 Gordon was born on his grandparents' farm in Wabek, North Dakota on February 7, 1927, the fourth of eleven children to Gurine (Huus) and Selmer Flom. Gordon spent his early childhood in Wabek and Wanamingo, MN, before the family settled in Minot, ND. After graduating from Minot High in 1945, Gordon sold shoes at D & S Bootery to save money for Concordia College. While selling shoes, Gordon would frequently pick up his sister Geanne from her job at the hospital to walk her home. It was during those visits that he developed his interest in hospital administration. After graduating from Concordia College, Moorhead, MN, Gordon spent a year working at the Institute for Living in Hartford, Connecticut, followed by a job with Lutheran Hospitals and Homes in Fargo and Dickinson, ND, where he solidified his decision to become a hospital administrator.
In December of 1954, Gordon married his college sweetheart, Lois Johnson. They began their adventure, living in Fargo and Dickinson, ND. In 1957, Lois and Gordon moved to Minneapolis so Gordon could pursue his master's degree in hospital administration. Their daughter, Kristin, was born in 1959 while Gordon was serving his residency at St. Luke's Hospital in Milwaukee, WI. Gordon accepted a position at West Allis Memorial Hospital, near Milwaukee, as the hospital grew from the ground up. He later returned to St. Luke's Hospital in Milwaukee, where he had served his residency as an assistant administrator.
In the summer of 1968, while the family was returning from their yearly summer vacation to Whidbey Island, WA, they made a fateful stop in Minneapolis. Gordon's friend and former colleague, Gordon Sprenger, jokingly gave him a recruitment flyer for a hospital administrator in Dhahran, Saudi Arabia. Lois, who is originally from Montana, said, "I'm not moving one step further east!" To continue the joke, Gordon submitted his application to Saudi Aramco. By Thanksgiving 1968, Gordon was visiting Dhahran to see if he thought he'd like the job and want to take his family. The family moved even further east to Dhahran, to start their new life in February 1969.
During their Aramco time, Gordon and Lois made many friends who became like family to them and Kristin. They were able to travel and see the world, but they always loved coming home to the US, especially to Minot, Havre and Whidbey Island to visit family and friends. A favorite annual trip was to the Host Fest in Minot with many of Gordon's brothers and sisters.
Gordon retired from Aramco in 1990, after almost 22 years in Dhahran. He and Lois settled in Bellevue and Whidbey Island, and later Mill Creek, all in Washington.
Gordon was a devoted grandfather to Kara, Kyler and Kellen, eager to attend grandparents day events; school and church programs; countless soccer, baseball, and basketball games, and cross country meets.
In 1995 Lois and Gordon felt the call of the desert, and discovered Sun City Summerlin. They spent several years as snow birds between Las Vegas and Washington, and in 2006, decided to permanently move to Las Vegas, where they have treasured their many friendships. They have also loved entertaining their many out of town friends and family over the years, showing them the softer side of Las Vegas and Nevada. Gordon and Lois especially enjoyed the winter months that Gordon's brother, Frank and his wife, Judy would spend in Las Vegas when many of the other siblings would come to visit as well.
Gordon died on October 10, 2016 with his beloved wife, Lois, and daughter, Kristin, by his side. He will be remembered for his kind, gentle compassion, great wit and sense of humor, and the unmistakable twinkle in his eye. He will be missed more than words can say.
Gordon is survived by his wife, Lois (Las Vegas, NV); daughter and son-in-law, Kristin and Ken Smith (Everett, WA); grandchildren, Kara Church(Evan), Kyler and Kellen Smith; great-grandson, Owen Church; sisters, Geanne Pankratz (Minot, ND), Margie Dornfeld (Kalispell, MT), Diane Ostby (Fargo, ND); brothers, Selmer Flom (Burlington, ND) and Frank Flom (Minot, ND) and many nieces and nephews.