Harold Vernon Roberts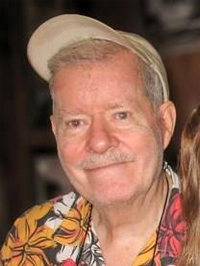 Harold Vernon Roberts, age 87, passed away peacefully at his home in Houston, Texas, following a short illness. He was known as "Dad" or "Grandpa" to his family and close friends, and was a self-made man. Born into a farming family in Kansas, City, Missouri, he had a passion for world travel and lived for extended periods of time in Tehran , Iran, and Dhahran, Saudi Arabia, where he worked for British Petroleum (BP) and the Arabian American Oil Company (ARAMCO), respectively. In particular, he had fond memories of his travels to Egypt, Spain, and Libya.
In 1995, he retired from Mitchell Energy Development Corporation in The Woodlands, Texas, and lived life to the fullest on his own terms. He continued to be active in the Petroleum Accountants Society of Houston (PASH) and American Legion Post 560 Garden Oaks. He also enjoyed road trips in Texas and to Florida. He spent many wonderful evenings in the piano bar at Pat O'Brien's in the French Quarter in New Orleans, Louisiana.
He loved his family and his country. He served in the United States Army in the Korean War where he was awarded the Korean Service and United Nations Service medals. He was the first in his family to graduate from college and earned a Bachelor of Science degree in Business Administration from the University of Missouri at Columbia.
He cherished family traditions such as Easter egg hunts, Mexican food and Margaritas at Ninfa's, and weekly gatherings with his family. He attended all of the family school events, extra-curricular activities, and recognition ceremonies. He enjoyed snow skiing in Colorado and Utah. He was proud of being left-handed and actively connected with those who were also left-handed.
When at home, he loved to read and to listen to classical music. He possessed a grumpy disposition which, at the same time, was endearing to those who knew him. He was a skeptic who would often find fault with the performance of his adopted sports teams including Houston Oilers, Texans and Texas A&M football, but yet he continued to be loyal to the end. His presence and crusty sense of humor will be missed.
He is survived by brother Ralph of Lee's Summit, Missouri, son Marc, daughter-in-law Jane Ann, and grandchildren Chris, Steven (with fiancé Kendall Browning), and Emily, all of Houston, Texas. The family wishes to thank the caregivers who provided personal care and service in his last days including Dr. Abbara (Kelsey Seybold), Dr. Davis (St. Luke's Hospital), Tomball Regional Home Health, and Hospice with Grace.
Our Dad, our Grandpa, our hero, will be laid to rest at the Houston National Cemetery following a visitation at American Heritage Funeral Home on Friday, June 2, at 11:30am. American Heritage Funeral Home is located at 10710 Veterans Memorial Dr., Houston, Texas 77038 (Telephone: 281.445.0050).