Helen Vera Abate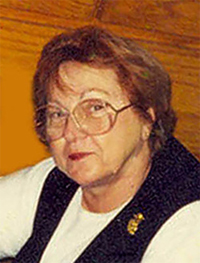 Helen Vera Abate, 83, of Lake Charles, LA went home to be with her Lord on Wednesday, July 26, 2017, in her residence surrounded by her loving family. Helen was born on October 4, 1933, in Merchantville, NJ to George and Michalina Rybak Bendyna.
After graduating from Merchantville High School, Helen and a friend went to Miami, Florida where she met and married the love of her life, a Marine named Charles Abate. When Charles was assigned to Korea, he moved Helen to his home town of Lake Charles. There they started their family and Helen became a wonderful housewife and home-maker. She was very active in her children's lives, serving as a room mother, Cub Scout den mother and Camp Fire Girls leader. A very active member of St. Margaret's Catholic Church, Helen served as a summer Vacation Bible School Coordinator, second grade teacher preparing her students for their first Holy Communion, and a hospital visitor coordinating pastoral visits for patients wanting to receive communion.
Helen followed her husband to Saudi Arabia where he worked for Aramco Oil Company. This experience proved to be a life changing event for her.
 Helen is preceded in death by her parents and Charles' parents, Phillip and Rosa Bell Williams Abate, whom she regarded as her own parents. She is also preceded by her sisters and their husbands, Lillian (Anthony "Tony") Piersanti and Mary (Robert) O'Connell, along with her sister-in-law and her husband, Bill (Marie Abate) Rider. She is also preceded by her brothers and their wives, George (Edith) Bendyna, Alfred (Helen) Bendyna, Connie (Rita) Bendyna, and her brother Alex Bendyna. Helen is also preceded by her daughter-in-law, Tammy Abate.
Helen is survived by her husband Charles and her two children Sandra Abate and Kenny Abate, and her grandchildren Tony Fazzio, Derek Abate, Kristen (Kade) Sonnier Lemaire, and Joshua Carter. She also leaves her great grandchildren Carsten Carter, Jude Lemaire and Ezra Lemaire. Others left to cherish her memory include her sister in law, Mary Bendyna and her brother Harry (Carole) Bendyna.
The family will receive friends at Johnson Funeral Home on Friday, July 28, 2017 from 5-9PM with a rosary at 6:30. Visitation will continue at the funeral home on Saturday from 10-12:30 when they will leave for Our Lady of Good Counsel where a Funeral Mass will be held, officiated by Fr. Nathan Long and Deacon Glenn Viau. Burial will follow at Consolata Cemetery.