Howard Stanford Arceneaux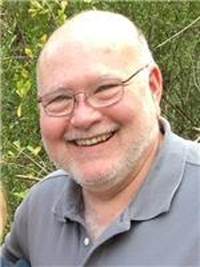 It is with heavy hearts that we share news of the death of Howard (Joe) Stanford Arceneaux on July 5, 2018. He was 60 years old.
Born on Sept. 10, 1957, in California, Howard lived and was influenced by his life around the world. His travels took him to Dallas, Arkansas, Saudi Arabia, Greece, and eventually Baton Rouge and St. Francisville. He attended Pinewood International School in Thessaloniki, Greece, Catholic High School in Baton Rouge, and received a bachelor's degree from LSU.
It was as a newsman that Howard found his professional calling. He began his journalism career as a sportswriter for the State Times and later The Advocate, particularly enjoying his seasons covering Southern basketball. Later, he served for many years as student media advisor at LSU for The Daily Reveille and as an adjunct professor teaching Senior Media Ethics. Howard found a great sense of fulfillment in this chapter of his career, mentoring and influencing scores of young media professionals as they set out on their paths in journalism.
Always looking for new challenges, Howard founded and published two monthly magazines, Livingston/Zachary Business and Real Estate Journals in order to promote local small business and highlight community events. He later served as a public relations consultant for the West Feliciana Parish Hospital and the West Feliciana Parish Schools, and covered the colorful local political scene as a freelance journalist with The St. Francisville Democrat. Howard loved serving his community in West Feliciana, as well as being an elected officer of both the West Feliciana and Zachary chambers of commerce. He was passionate about providing equal media coverage to all athletes, regardless of race or background and worked tirelessly to give positive attention to the many community events in West Feliciana and to highlight accomplishments of students and local businesses.
Similar to his years at LSU, he enjoyed giving his time as a Reader Leader at Bains Lower Elementary School, helping first-graders learn to read. He was an avid Pelicans basketball fan and, admittedly, a fair-weather LSU fan.
Most of all, Howard was proud to be a family man. Generous, welcoming and selfless, his greatest joy came from spending time with his family and friends. He spoiled his family with daily small acts of kindness. And those who knew him will always remember his sly sense of humor.
Howard is survived by his loving wife of 28 years, Colleen Fitzmaurice Arceneaux, daughter Hayley Arceneaux, son Hayden Arceneaux, father Jess Arceneaux and sister Laura Arceneaux. He is also survived by his in-laws, Edmond "Eddie" Fitzmaurice III, Shannon Lovell, Kerryn Liebkemann, Brian Fitzmaurice, his mother-in-law, Gayle Fitzmaurice and numerous nephews and nieces. Howard's birth father, Howard Eakin Jr., was an Army captain who was killed in Vietnam when Howard was 5 years old. Howard always considered himself exceptionally fortunate to be adopted by Jess Arceneaux. Howard was preceded in death by his mother Mary Ellen Arceneaux, his father-in-law Edmond Fitzmaurice Jr., his grandparents Nester and Pauline Arceneaux and John Matteo and Florence Frazzini, and his brothers-in-law Kelly Fitzmaurice and Robert (Bobby) Liebkemann.
A service will be celebrated Monday, July 9, at Grace Episcopal Church in St. Francisville, with visitation from 3-5 p.m. There will be a funeral service at 5 p.m. and a reception following at Jackson Hall. Memorial donations may be made in his name to, 262 Danny Thomas Place, Memphis, TN 38105, or by calling (800) 822-6344 or visiting www.stjude.org. Special thanks to Drs. Raven and Bonnecaze at the Outpatient Palliative and Supportive Care Clinic, as well as Pinnacle Home Health and Hospice Services. All provided excellent medical care during Howard's courageous battle with kidney cancer.
"I have fought the good fight, I have finished the race, I have kept the faith."