Ismail Ghazalah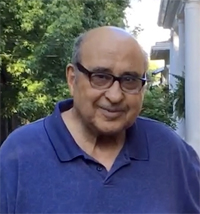 Athens, OH - Dr. Ismail Ghazalah, 88, passed away peacefully at his home in Athens on August 27, 2021. Ismail is survived by Barbara, his beloved wife of 63 years. Also surviving are his brother-in-law Narayan, his niece and nephews and their children and grandchildren, and many other caregivers, each of whom has been a loving resource for the family throughout his illness.
Ismail was born in Lebanon and moved to the United States in the late-1950s to pursue his graduate studies in economics. He studied with Professor George Break at the University of California Berkeley and received his PhD in economics in 1969. He met Barbara while he was at Berkeley, and they got married in 1958. While Ismail was completing his dissertation, he taught at the University of Glasgow in Scotland and he and Barbara had many wonderful memories of this time. They also had memorable experiences while Ismail worked for Aramco in Saudi Arabia.
Ismail joined the Department of Economics at Ohio University in 1969. His research centered on policy issues, including funded research about educational policy from the state. His students, undergraduate and graduate, enjoyed his public finance classes. Of particular enjoyment were honors tutorial students and he was director of the honors tutorial program for more than two decades. He also served as director of the master's in economics program and made lasting friendships with many students. Ismail also served as chair of the department for several periods of time.
Ismail was a Rotarian for a long time and became involved in many service projects. He served twice as the president of the Athens Rotary Club and was also a multiple Paul Harris Fellow.
Traveling throughout the world and collecting antiques were an important part of his life. He had a fine appreciation for cuisine from all over the world and, through the years, he and Barbara enjoyed cooking and entertaining many friends, colleagues, and students at their home. In his spare time, he also enjoyed reading Kahlil Gibran's poetry.
Arrangements are entrusted to Hughes-Moquin Funeral Home where cremation will take place. A memorial service will be held at a future date but not immediately due to COVID concerns.
In lieu of flowers, contributions can be made to the Ismail Ghazalah scholarship fund held by the Ohio University Foundation.