James Alec Daugherty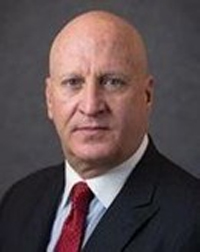 Former Holdenville resident, James Alec Daugherty, age 60, passed away Saturday, January 20, 2018 in Hermann Memorial Southwest Hospital in Houston, Texas following a tragic accident. Alec was born on January 3, 1958 at St. Francis Hospital in Holdenville, Oklahoma to JC Daugherty and Barbara Mealey Daugherty.
Alec graduated from Holdenville High School in 1976 and the University of Oklahoma, Price Business College in 1980. He was a Certified Public Accountant. Alec was presently serving as President of Liquid Capital of River Oaks and an Associate/Owner/Operator at Houston Strong Legal Shield. He was a managing partner at Kirkwood Eagle Holdings, LLC. He has served as Chief Financial Officer and Chief Administration Officer at Gulf Strategic Partners in Manama, Bahrain, Chief Accounting Officer, Global Controller, Senior Analyst, Accounting and Finance Systems at Saudi Aramco, in Dharan, Saudi Arabia.
Alec was passionate about good dining, golf, basketball, softball and being with friends. He was proud to brag that his HHS Class of 1976 Golf Team took first place in the last 2 HHS Alumni Golf Tournaments. Alec and good friend, Bill Krull, would host a "Kings Court" 5 star dinner each year with his gentleman friends. Alec will be remembered for his quick wit, his athleticism and brilliant mind. He was son, brother, uncle, cousin and friend to all.
Alec is survived by his father J.C. Daugherty (Lois), sister, Anne Daugherty, brother, David Daugherty (Teresa) all of OKC, OK and sister, Barbie Martinez, (Ernie) of Arlington, TX. Five nieces and nephews, Natalie, Scout and Quinn Daugherty and John Carlos and Lauren Martinez. Cousins, Debra Vetter (Charlie), Joey Vetter, of Midland, TX, Tracy Daugherty (Margie) of Corvallis, Oregon. Step sister, Twana Marshall (Mike) and family, Step brother, Tom Luster (Marquetta) and family. Alec was preceded in death by his mother Barbara Daugherty and younger brother, John Clay Daugherty.
Viewing will be Sunday, January 28th from 3 pm to 8 pm at the Smith & Kernke Funeral Home located at 14624 N May Ave., Oklahoma City, OK.
Memorial Mass will be January 29, 2018 at 10:00am at Christ The King Catholic Church, 8005 Dorset Dr, Oklahoma City, OK. Meet and greet following the Mass.
A private family burial will be held at a later date in the Daugherty family plot at Holdenville Cemetery.
Charitable donations may be made to Holdenville High School Alumni Association designated for the Golf Tournament. Bank account is at Security State Bank, 1701 E. Hwy St, PO Box 873, Holdenville, OK and mailing address is Holdenville Alumni Assn, PO Box 133, Holdenville, OK 74848.
Arrangements are being handled by Hudson-Phillips Funeral Service of Holdenville, OK