James Tidwell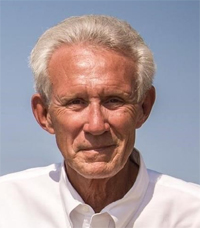 We will remember James David Tidwell as a fine scholar, a beloved teacher, and an outstanding athlete. More than anything, he loved a good discussion on topics ranging from Existentialism to the Detroit Lions. He was intrigued by the basic contradictions of humanity - good and evil, cynicism and altruism, love and loss. Dave died at home on December 31, 2020. Dave was born to Nellie and Jim Tidwell on November 6, 1947, in Garden City, Michigan. He grew up in Plymouth, Michigan, and graduated from Plymouth High School in 1965. He was a graduate of Kalamazoo College where he majored in Philosophy and Religion. There he played on the tennis and football teams and was inducted into the K Tennis Hall of Fame. He earned an MA in Religion at Vanderbilt University.
On November 17, 2000, Dave married his childhood sweetheart and long-time tennis partner, Carol Otwell, who survives. They traveled extensively together and brought back wonderful memories. In retirement, they added on to their cottage near Lake Michigan and became South Haven residents. Also surviving are his son David Joshua (Maitane) Tidwell, stepdaughter Kristen (Jeff)) Kubiak, stepson Robert (Joel) Oakleaf, and grandchildren Maya and Beto Tidwell, and Jacob, Kayla, Michael, and Justin Kubiak, as well as sisters Jeannine (BJ) Cranford and Lou Plummer.
Dave spent his professional career as a teacher, coach, writer, lecturer, and tennis professional. For six years he taught history at the ARAMCO schools in Saudi Arabia. His next assignment was as head of the English Department and coach at University Liggett School in Grosse Pointe. His final position was at his beloved Cranbrook-Kingswood School in Bloomfield Hills. There he served as the head of the Religion and Philosophy Department, coached tennis and football, and was the Chaplain of the school. He was a compassionate, perceptive, nurturing teacher and coach. He made a difference in the lives of thousands of students and athletes, and they loved him.
In retirement, Dave continued to teach and lecture. He offered classes at Lake Michigan College and spoke at churches and libraries. Until 2 months ago, he and Carol still enjoyed playing tennis together.
Dave's outlook on life was always positive. He was adventurous (once running with the bulls in Pamplona, Spain), empathetic, gregarious, and kind. Dave was a wonderful human being and will be greatly missed.
A memorial service for Dave will be held at a later date. Contributions can be made in his name to First Congregational Church, UCC, 651 Phoenix, St., South Haven, Michigan 49090. The family is being helped by the Filbrandt Family Funeral Home in South Haven, 637-0333.