James Washburn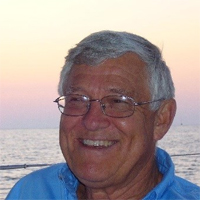 James "Jim" Washburn passed away on December 21, 2020, after a valiant 7 year battle with melanoma.
Jim was born on June 8, 1939, in Longmont, Colorado, but spent the majority of his first 8 years in Iowa, including a year and a half at a Catholic boarding school. When his mother remarried, the family moved west to California and then to Portland, Oregon, where the family settled. Jim attended 3 elementary schools in the Grant district and graduated from Grant High in 1957.
The first in his family to attend college, Jim worked at Boeing and surveying to put himself through college. He attended PSU for 2 years, before transferring to the University of Oregon for another 2 years, where he became a member of Beta Theta Phi.
Jim was a lifelong adventurer and, after 4 years of college, worked for a year on Grand Bahama Island life-guarding and instructing scuba. He then traveled to Europe and then spent another year working and traveling through Europe by Vespa.
Returning to the US, Jim worked in Montana on the Minuteman Missile silos before returning to Oregon to reestablish residence and complete his Bachelor's degree at OSU. He then continued his education with graduate work in oceanography. While working at OSU in 1968, Jim met Kathy Steinbach, who happened to live in the same apartment complex. They married in 1971 and shared life's adventures for next 49 years. In 1980, their lives were enriched by the birth of their son, Doug.
Jim spent the majority of his career working for OSU's Department of Ocean Engineering as a research associate and as the university's first diving officer. Jim participated in many long cruises on the OSU research vessel, the Yaquina, being responsible for the hydrographic data. He made numerous dives on the TOTEM project to moor instruments designed to monitor oceanographic and meteorological conditions. He participated in oceanographic experiments in Tahiti, New Caledonia, and the Bahamas. He was in charge of hydrographic data on cruises to Costa Rica and Peru, which provided him with the opportunity to dive in the Galapagos before the tourist boom! He also set up experiments in the OSU wave tank to study the effects of storm and tsunamis.
As a diving officer, Jim worked with as many as 500 divers on university related projects and estimated he made around 150-200 dives a year. Jim had the opportunity to dive around the world-from the Arctic to South America and from the Persian Gulf to Polynesia. One of the nicknames he was given as a diver was "Iceman," for calmly playing Tic-Tac-Toe with a fellow diver while being circled by a great white shark.
On leave from the university, Jim worked as a diving supervisor on the Exxon Valdez oil spill, spent two summers instructing scuba at ARAMCO and worked as a consultant to the EPA on a sewage dumping project which allowed him the opportunity to spend a week living in an underwater habitat.
Jim enjoyed ski trips and traveling with his family to Hawaii, Mexico, Europe, the Caribbean, Canary Islands, and French Polynesia. Jim was an avid reader, enjoyed coffee chats with friends and cheering on the Beavers He was thrilled sharing his diving passion with his son, coaching his son's soccer and basketball teams, and visiting in Sweden to spend time with his son and other family. He appreciated the many wonderful sailing adventures he shared with good friends in Hawaii, Canada, Tahiti, the Bahamas, and Croatia.
Jim was definitely a people person and keenly interested in others. He had an engaging smile, punctuated by dimples, which drew people to him. Jim had an intellectual curiosity, a good sense of humor, was an excellent listener, and loved a good conversation. He felt fortunate to work in a stimulating university environment, live in an enlightened community, and have talented, intelligent, and caring friends and family.
Jim is survived by his wife, Kathy; his son, Doug (Paula); and his two beloved grandchildren: Olivia and William. He is also survived by his three sisters: Judy Brennan, Pat Minor, and Lisa Trickle.
In line with Jim's wishes, a celebration of life will be held once the pandemic has passed. For those interested, donations in Jim's memory can be made to the Union of Concerned Scientists, with hope that science can help our planet be safe and healthy for future generations,
McHenry Funeral Home is handling the arrangements.