Jasper Clark Lilly Jr.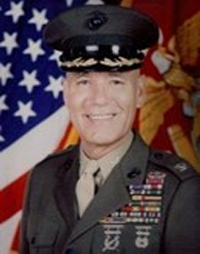 Colonel Jasper Clark Lilly, Jr., retired, USMC, passed away Wednesday, July 4th, 2018. J.C. was born in Ellison, WV on December, 25th, 1936. He enlisted in the Marine Corps in 1954 and went on to graduate from the 7th Warrant Officer Candidate Screening course as the honor man. He also graduated with honors from Chapman University with a degree in Economics and Business Administration. Other military colleges included Armed Forces Staff College and the Air War University.
His 38 year Marine Corps career was diverse and accomplished. He served in Vietnam in 1966 and 1967 as a platoon commander where he was engaged in operation Prairie and operation Hickory. He was awarded the Purple Heart with a gold star. He also served in Desert Shield and Desert Storm as Assistant Chief of Staff and earning the promotion to Chief of Staff, 1st Marine Division upon his return from the Middle East.
During his years as an enlisted Marine he served as a drill instructor at the Officer Candidate School in Quantico, Virginia and Marine Corps Recruit Depot, San Diego, California. He went on to serve various billets throughout his career. He was the Commanding Officer, Marine Barracks, Annapolis, Maryland. He also held several positions in Marine Corps recruiting, including Director of the 6th Marine Corps District, Atlanta, Georgia. Throughout his military career he received a number of personal decorations including Legion of Merit with two gold stars, Purple Heart with gold star, Meritorious Service Medal, and 20 other service awards.
His civilian accomplishments included Shaybah Project, Saudi Arabia with Saudi Aramco, Camisea Project, Peru, with Bechtel Corporation. He also took his talents to become an entrepreneur and formed Lilly & Meadows Delivery Services, Inc., and Eagle Point Development.
He is proceeded in death by his parents, Eva Dell Lilly and Jasper Clark Lilly, Sr., son, Jasper Clark Lilly, III, grandson, Clifford C. William Harloff, and great-grandson, Wyatt James Mayhead. One of the greatest things he passed on to his children was to love hard and live hard. He loved the Corps, his country, family, friends, and his pets with all his heart. He was a lover, a fighter, an outdoorsman, a music fanatic, and an avid reader and runner. He is survived by his loving wife, Vickie Jean Lilly and his 7 children, Sylvia (Patrick) Ladd, Sheryl Kennedy, Sheila (Ron) Theetge, Laura Lilly, Brenda Lilly, Sabrina (Chuck Daniel) Lilly, Carl (Leah) Sepulvado, 18 grandchildren, 18 great-grandchildren and 5 great-great-grandchildren. The family will receive friends from 11am-1pm on Sunday, July 15th at A.S. Turner and Sons, 2773 North Decatur Road, Decatur, GA 30033. There will be a service immediately following at 1pm. A family graveside service will be held in Ellison, West Virginia on Tuesday, July 17th at 10am. Flowers are welcome; memorial contributions may be made at Lewy Body Dementia Association, and the Semper Fi Fund.