Jawed Anjum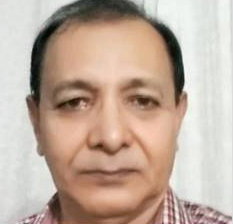 Our colleague and friend M. Jawed Anjum, badge# 76030 and Saudi Aramco retiree, passed away in the Philippines on Friday, September 03, 2021 around 03:00 PM (Philippines Standard Time) and 12:00 noon (Pakistan Standard Time) due to COVID-19, shortness of breath and heart problems. His burial took place there in a nearby Muslim Cemetery.
Late Jawed Anjum joined Saudi Aramco in September 1991 and started working with Management Training Center, Dhahran. Later he was transferred to Northern Area Technical Services Department, Tanajib. He got retired in June 2014 from the same department and settled with his family in Karachi, Pakistan.
Before his retirement he has established a small hotel business in Bukidnon, Philippines.
May ALMIGHTY ALLAH SWT forgive him and bless his soul with Jannah Al-Firdous. Give patience to his survivors, Aameen.
He is survived by his wife, two sons and a daughter, namely:
Mrs. Nargis Anjum - Wife
Fahad Anjum - Son
Asad Anjum - Son
Madiha Tanweer - Daughter
All the children are married and well settled in their life.
For condolence his son Fahad Anjum can be contacted on his cell phone # +92-300-208-7808