Joseph LeRoy LeBlanc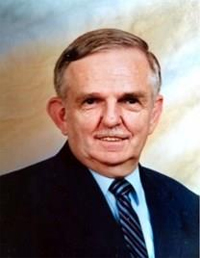 Joseph LeRoy LeBlanc, 80, of Temperance, Amherst County, passed away on Monday, January 22, 2018 at his home. He was the husband of 56 years to Betty J. Ellis LeBlanc.
Born February 18, 1937, in Lynn, Massachusetts, he was the son of the late Maurice LeBlanc and the late Phyllis Keating.
Joe was a world traveler by choice. He traveled while working to Ecuador, Spain, Germany, the Philippines, Iran and Saudi Arabia. He was instrumental in the establishment of the first YMCA in Ecuador while working for NASA at a satellite tracking station. He continued to work with the space program in Corpus Christi, Texas. In other overseas jobs, he taught computer maintenance, repair, installations, and upgrades.
While living and working in Saudi Arabia, he and Betty helped with the American Red Cross to help provide home cooked meals for servicemen and women during both Desert Shield and Desert Storm. He had a love of learning and helping people. He didn't know a stranger and was willing to help friends and neighbors. He was an active member of Amherst Presbyterian Church as well as being a loving husband, father, grandfather, and great-grandfather. He volunteered with Habitat for Humanity while living in Maryland, and helped to establish the Amherst County Habitat for Humanity where he was a member of the Board of Directors. Joe loved to square and round dance, which he and Betty did for over 30 years. He was active in the National Capital Lyme's Disease Association where he was the Director for Central Virginia, a speaker and supporter of more research for Lyme's Disease patients.
He was preceded in death by his son, Kenneth Scott LeBlanc, and his brother Cliff LeBlanc.
In addition to his wife, Joe is survived by his daughter, Kris LeBlanc Stewart of Powhatan Virginia, five grandchildren, Michael Kinsler (Mitzi) of Pulaski, Iowa, Heather Lynn Kinsler, William T. Stewart, James E. Stewart, and Matthew R. Stewart and three great-grandchildren, Chad and Joseph Kinsler, and Abigail Marena Ray all of Iowa. He also leaves many nieces and nephews, and family and friends to cherish his memory.
A memorial service to celebrate his life will be held at 11:00 am on Saturday, January 27, 2018, at Amherst Presbyterian Church. A reception will follow the service in the church Fellowship Hall.
In lieu of flowers, memorials may be made to Amherst County Habitat for Humanity, P.O. Box 1397, Amherst, VA 24521
---
In 2016, Aramco ExPats wrote a feature article about Joe. Our sincerest condolences to Betty and his family.