Leslie Elizabeth Cook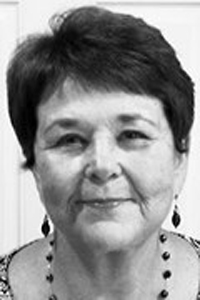 Leslie Elizabeth Cook, of Cumberland Foreside, battled cancer with incredible strength and determination but died peacefully on Sept. 2, 2016, surrounded by close friends and family at Maine Medical Center.
Leslie was born and raised in Gloucester, Mass., the elder daughter of Robert S. and M. Elizabeth (Betty) Burns. Her leadership qualities blossomed in high school as class officer and among others, president of the American Field Service. Her passion for international relationships and intercultural diversity started with AFS and eventually led to her own international adventures.
Leslie graduated from Newton Wellesley Hospital School of Nursing, then went on to Boston College and Roger Williams College in Providence, R.I. for her BSN degree. She received her M.Ed. from Cambridge College in Massachusetts.
Leslie started her career at Framingham Union Hospital in Massachusetts where she designed and implemented a new Cardiac Intensive Care Unit.
Ready for a career challenge and overseas travel, Leslie moved to Saudi Arabia as Director and Chief of ARAMCO's Medical Organization in1985. In 1993 she became Nursing Head demonstrating her diverse medical management expertise for ARAMCO's 90,000 employees. Her Saudi and expatriate friends were her overseas family and her home central to their gatherings and celebrations. Leslie had exotic travels which few of us can imagine. Her trips to Thailand, China, Japan, Nepal, Africa, and Europe gave her a unique perspective of their cultures and global healthcare issues. The friendships she made while there were solidified to last a lifetime; many are grieving her passing with us today.
After 20 years in Saudi, Leslie retired to Maine. She worked for Hospice of Southern Maine and created a second career as a healthcare resource and advocate for her family and an enormous circle of friends. She volunteered for her best friend, Elizabeth McLellan's Partners for World Health. Leslie and Elizabeth, a Camden native, met in Saudi. Elizabeth founded PWH whose mission is to collect discarded medical supplies and sponsor medical missions to third world countries. Having seen the disparity of healthcare around the world, Leslie was dedicated to making a difference globally and locally.
Leslie's love for humankind led her to study Buddhism and join Open Hearts Sangha to study mindfulness through meditation. The highlight of her practice was meeting Zen master Tich Nhat Hanh at a Blue Cliff Monastery Sangha Retreat.
Besides her many close friends, Leslie leaves behind her sister, Mary Ann Bradford, and her husband Brent of Cumberland Foreside, a brother, Robert Burns, Jr., and his wife, Aleta of Vermont; five nephews, a niece, and their spouses; along with five grandnephews and five grandnieces in Maine and Vermont.
She will be greatly missed by all who knew her; her loving and giving spirit is one born of humility and a huge heart.
A celebration of her life will be held on Sunday, Sept. 25, at 12 noon, at Pineland Farms in New Gloucester.
Her family asks that in lieu of flowers, donations be sent to:
Partners for World Health
Leslie Cook Memorial Gifts
2112 Broadway West
South Portland, ME 04106