Margie Ellen Johnson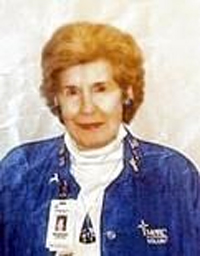 Margie Ellen (Hildebrandt) Johnson passed away on April 23, 2018. She was born on Oct. 21, 1922, in McLean, IL to Anton and Katherine Hildebrandt.
Margie enjoyed many years as a piano student before entering the St. Joseph's School of Nursing in Bloomington, IL. She left work at Consolidated Vultee Aircraft in San Diego, CA during World War II. She was one of the last employees to be terminated at the war's end because of her seniority.
She married Tom Lamar Johnson, M.D. in 1950, and three children were born to that union, Jon Eric, Tara Lynn, and Cynthia Ellen. In 1951, Dr. Johnson accepted employment with ARAMCO, and they lived several years in Saudi Arabia. Margie volunteered at Mercy Hospital for 23 years.
Margie was preceded in death by her oldest and youngest children, Jon Eric and Cynthia Ellen; and three sisters, Carol Jones, Martha Farris, and Rosemary McKinney. Margie asked that donations be made to www.macular.org or mailed to the American Macular Degeneration Foundation, P.O. Box 515, Northampton, MA 01061-0515. A scattering of ashes will be made at the McLean Cemetery.