Marion Wier DeFord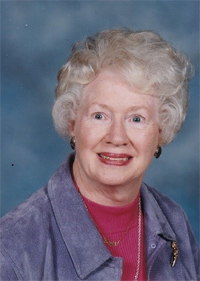 Marion Wier Rich DeFord, age 93, passed away peacefully at home on January 2, 2021, surrounded by family. She was born November 6, 1927 in San Angelo, Texas to John L. Wier and Mabel Alice Perkins Wier.
She attended Trinity University in San Antonio for 1 year and then transferred to The University of Texas at Austin. Marion graduated with Honors in 1946 with a BA (English) and worked as secretary for the BioMedical Engineering Department of the University of Texas.
Marion was a longtime resident of Austin, but had also lived and raised her family in numerous oil company camps in Venezuela, Kuwait and Saudi Arabia. She had previously worked as a secretary for ARAMCO in Saudi Arabia and Gulf Oil Co. in Venezuela, as well as being a homemaker in between.
Marion first lived overseas in Haifa, Palestine when her father worked on the Iraqi Pipeline Co. in the development of Mid-East oil in the 1930's. After college she went to live in the VZ Oil Camps and worked for Gulf Oil Co. while her parents lived in the nearby Mobil Oil Camp. There she met Mobil engineer William Rich and they married. Both her children were born in VZ. From there the Riches moved to Aminoil in Kuwait and then to ARAMCO in Dhahran, Saudi Arabia. Marion retired to the Austin area where she married Prof. Ronald K. DeFord and they had a wonderful life together revolving around Ballroom dances and UT functions. Upon moving to the Retirement Community of Westminster Manor, Marion continued to attend UT football games with Col. Gregory USAF, retired. She also traveled to Mexico with her sister and brother-in-law Marjie and John Eason. Marion made Bicycle Tours of Europe at age 70+ yrs and later European Riverboat cruises and traveled to many countries including Dubai, Galapagos Islands, Easter Island and Antarctica. Marion had a great love and appreciation of other countries and cultures that was shared and installed in her children. In the 1950's Marion flew over Angels Falls on a Tour while in VZ and met Jimmy Angel. Another special moment was on the ARAMCO welcoming group for the Saudi Arabia Crown Prince visit to Waco (to President Bush) and the Crown Prince shook her hand and said "Hello, Marion" as he read her Arabic name necklace (that she always wore).
Marion's memberships and activities included Headliners Club, Magna Charta Dames Society, Gamma Phi Beta Sorority, the Waltz Club, Austin Women Club, Longhorn Club, ARAMCO Retirees, and the Covenant Presbyterian Church Choir. She and Ronald DeFord were founding members of the Austin Lyric Opera. Marion had a beautiful voice and enjoyed ballroom, tap, ballet and square dancing throughout the years.
She was an avid giver to UT Austin, primarily to Geosciences & Texas Exes but also to the Athletics; Natural Sciences, Fine Arts Blanton Museum, Wildflower Center and many other UT colleges and institutions. She loved to attend all UT games in person for many years.
Marion also supported specific endowments including: Ronald K. DeFord Field Scholarship and Ronald K. DeFord Technical Session (UT Geosciences); and Marion Elizabeth Eason UT Scholarship for the Study of Biology. She contributed and was instrumental in fundraising for the establishment of the Ronald K. DeFord Graduate Advising Suite at UT.
Marion was a Lifetime Member of UT clubs including: Chancellor's Council, Littlefield Society, President's Associates and Texas Exes. Other UT Austin programs included: Learning Activities for Mature People (LAMP) and The University Ladies Club.
Her other gifts included: Ballet Austin; The Long Center, Austin Symphony, Gilbert & Sullivan Society, The Petroleum Museum, Texas State Historical Association (including helping save the Driscoll Hotel), Austin Community Foundation, Hospice Austin, St. David's Foundation, Presbyterian Children's Home and numerous Veterans and Humane organizations.
Marion was a longtime resident of Westminster Manor.
Her husband, Ronald K. DeFord preceded her in death, as well as her former husband, William B. Rich.
She is survived by her dear friend of many years, Col. William Gregory, USAF Retired; her children, Stephen Rich and Lisa Rich Beck Hunter; son-in-law Sun Down Hunter, grandchildren, Karl Beck (Tara), Sundown West Hunter (Elisabeth), Devlin Hunter and Lindsey Hunter; great-grandchildren, William, Henry and Charlotte Beck; sister and brother-in-law, Marjorie Wier Eason and John Eason; and nieces and nephews, Erik Eason and John and Evelyn Eason, and many other wonderful extended family.
Services will be held at 2:00 pm on Monday, January 11, 2021, at Weed-Corley-Fish North Chapel, 3125 N Lamar Blvd, Austin. Interment will follow at Austin Memorial Park Cemetery.
The family wishes to thank all her caregivers for their kindness, especially Blanche and Elleni.
Marion, our loving mother, will be deeply missed. She was a beautiful, sweet lady, loved by all who met her. She was very proud of her two children and thoroughly enjoyed her grandchildren and great grandchildren. A special moment for her was sharing the same birthday with a great-grandchild, 92 yrs apart to the day! Marion was the "glue" that kept her family together, reaching out to talk with a family member somewhere, almost every day. Marion also traveled the world in her retirement years and had a great appreciation for other countries and cultures, due to her living abroad for many years. And, of course, Marion always had a soft spot in her heart for all her many pets and showed kindness and dedication to animals and wildlife her entire life.