Mary Egan Rickwood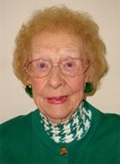 Mary (Mae) Egan Rickwood, 98, born 14 December 1918- before women could vote- passed away 23 November 2017 at Raritan Bay Medical Center, Perth Amboy Division. She outlived the Victory Bridge.
Born and raised in Perth Amboy, she was a longtime St. Mary's Communicant, member of the St. Mary's Rosary Society and Seniors, Knights of Columbus Seniors and a charter member of the Rector Street Marching and Keg Society. With her husband Chester (Rick) Rickwood (deceased) they were the first Perth Amboy couple to enlist in WWII. Postwar, when her husband went to work for ARAMCO, she took her young family to Saudi Arabia for 8 years, and travelled extensively with them in Europe and the Middle East. She remained a traveler till slowed by age. Back in Perth Amboy she reveled in family and friends and neighbors for decades, kept the family "telegraph" line abuzz with news from all to all and was the longtime "Mayor" of Rector Street. Survived by her sons, Kevin of Georgia, Rory and his wife Kathy Carr of New York City, Scott Race of Perth Amboy, her brother Joseph Egan of California and her grandsons Preston and Matthew and her caregiver, Maria Viana.
Funeral services will be at 9:30 AM on Wednesday, November 29, 2017, at Flynn and Son Funeral Home, 424 East Ave., Perth Amboy with a 10 AM funeral liturgy at Blessed John Paul II Parish, St. Stephen's Church, Perth Amboy. Intermit will follow at St. Mary's Cemetery, Perth Amboy. Viewing will be Tuesday 2-4 and 6-8 PM.
In lieu of flowers contributions may be made to , 30 East 33rd Street, New York, NY 10016.