Mary Ellen Arceneaux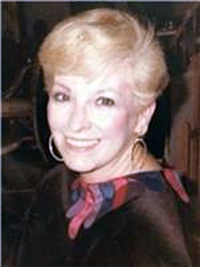 It is with heavy hearts we share the news that Mary Ellen "Nonsy" Arceneaux, accomplished artist, decorator and culinary enthusiast, passed away on April 6, 2018. She was 82 years old.
Born Mary Ellen Matteo on August 8, 1935, in Freedom, Pennsylvania, she spent her early years running the halls of her family's hotel in Darlington, Pennsylvania. Throughout her adult life, she traveled the world, making homes in Glendale, California; Dallas, Texas; Dhahran, Saudi Arabia; Tequesta, Florida; and finally Baton Rouge.
Mary Ellen lived her life with creative purpose to fill the world around her with beauty, laughter, and love. Her passion for art began in early childhood with a keen sense of colors and the emotions they evoked. Being profoundly influenced by the impressionism of Claude Monet, her art was an expression of her open and welcoming heart.
Many friends and family members consider themselves blessed to have shared the warmth of her hospitality, which was a reflection of her endlessly generous spirit. She was the epitome of "the hostess with the mostest," who enjoyed cooking, as well as teaching classes in cooking and etiquette to both adults and children. Mary Ellen will be greatly missed by everyone she touched and be remembered as eternally young, vibrant and full of enthusiasm for any task she undertook. She will forever remain a part of all our lives.
Mary Ellen is survived by her loving husband of 51 years Jess Arceneaux of Baton Rouge; devoted children Howard Arceneaux (Colleen) of St. Francisville and Laura Arceneaux of Sherman Oaks, California; grandchildren Hayley Arceneaux of St. Francisville and Hayden Arceneaux of Huntsville, Alabama; brother John Matteo of Monaca, Pennsylvania; brother-in-law Paul Arceneaux (Caroline) of Metairie; nephews David Arceneaux, Stephen Arceneaux (Edye) and Andre Arceneaux, of Metairie; and niece Eleanor Lister (Chuck) of Riverside, California. She is preceded in death by her parents John Matteo and Florence Frazzini; sister Delores Anne Matteo; first husband U.S. Army Captain Howard M. Eakin Jr.; aunt Vi Cucinelli (Nick); aunt Elsie Melanious (George); aunt Ellen Frazzini (Orlando); uncle Louie Matteo; father- and mother-in-law Nestor and Pauline Arceneaux; surrogate mother Grace Shelly and surrogate sister, Hazel Trout.
The family wishes to thank her many doctors and caregivers for their care and solace. A memorial service/celebration of her life will be held in early August. Donations may be made in her memory to, 501 St. Jude Place, Memphis, TN 38105; or the American Association of Kidney Patients, 14440 Bruce B. Downs Blvd. Tampa, FL 33613. Family members may be contacted at: 8680 Jefferson Highway, #208, Baton Rouge, LA 70809.