Merritt Ward Wanty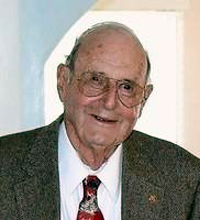 Merritt "Mike" Ward Wanty, age 97, of Oakdale, CA passed away on February 25, 2018, in his home. He was born in Oakland, CA, the son of Samuel Merritt Wanty and Florence Wooll Wanty from Berkeley, CA.
Mike was raised in Oakland and graduated from Oakland High School. He graduated from University of Oregon with a BS in geology in 1942 and was a member of Chi Psi Fraternity.
Mike was a proud Veteran who served in World War II. He was assigned to Naval Midshipman's School at Northwestern University, Chicago, IL. In June of 1943, he boarded the destroyer USS Lardner DD 487 in Honolulu, which joined a fleet of 10 ships and sailed to Guadalcanal for a 3-year tour in the South Pacific. He served active duty as a Lieutenant in the Navy from 1942 until 1946.
After the war in 1947, he was employed by ARAMCO of Standard Oil as a geologist in Dhahran, Saudi Arabia exploring oil fields and setting up drilling rigs.
In the summer of 1949, touring Europe with fellow geologists, he met the love of his life Doris Irene Boothe from Modesto, CA in Florence, Italy. They were married in the fall of 1949, in Modesto and continued to live in Dhahran, Saudi Arabia.
In the spring of 1951, Mike and Doris moved to Oakdale, CA to start a new life as a cattle rancher. Mike's father-in-law said he could make a good cowboy out of him. For 67 years they lived on their cattle and almond ranch where they raised four children.
Mike took an active roll in the community. He was a 4H leader, served on the Oakdale Elementary School Board, Director of Memorial Hospital Foundation and Association and Director of the Stanislaus San Joaquin Cattleman's Association. He was a 60-year member of the Oakdale Masonic Lodge transferring to Knights Ferry Masonic Lodge F&AM #112. Mike was a member of the V.F.W., Tin Can Sailors, and Geneva Presbyterian Church in Modesto.
In Mike's early years he was a fisherman and hunter. Mike enjoyed spending time with family and friends including traveling on several cruises, WASP and Navy Destroyer Reunions, and the cabin in the mountains. He loved people and sharing stories and memories of his life.
Mike was preceded in death of his wife Doris I. Boothe Wanty of 68 years. He is survived by his daughter's Diane Ravanesi (Pat) Western Springs, IL, Christine Sutton (Bob) Blossom, TX, Carol Ehrler (Bill) Modesto, and son, Jake Wanty (Victoria) Oakdale, brother-in-law Everett Boothe (Charlotte deceased), 12 grandchildren, 10 great-grandchildren. The family wishes to thank all his caregivers he has been blessed with.
On Thursday, April 12 at 10:00 AM a memorial service will be held at Geneva Presbyterian Church, Modesto CA. Graveside services with military honors will follow at 11:30 AM Lakewood Memorial Park, Hughson, CA.
In memory of Mike Wanty please consider making a donation to Stanislaus County 4-H Sponsoring Committee, 3800 Cornucopia Way #A Modesto, CA 95358.