Michael Albert Banville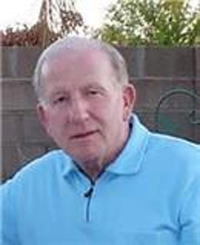 Michael Albert Banville, 76, died on Friday, July 15, 2016 at the Kindred Home in Yuma, AZ following a long battle with Alzheimer's Disease.
He leaves his wife of 49 years, Lynn (Urban) Banville; his daughter, Cristine Vassar and her husband Lloyd; his son, James Banville and his wife Carrie; two sisters, Lorraine Dugdale and Claire Garland; one brother, Huey Banville; six grandchildren, Christy Bates, Jason Hurst, David Vassar, Demirese Hurst, Braeden Banville, Rebecca Banville; and many other wonderful friends and family members.
Born in Somerset, MA, the son of Albert and Ida Banville, Mike's father relocated the family from East coast to San Diego, California when he was 13 years old, where he completed schooling at Lincoln High School in San Diego, CA.
Joining the Air Force directly after high school, Mike was afforded many opportunities that led to a lifetime full of traveling, adventure, and self-fulfillment. While in the Air Force, he worked as an aircraft mechanic and was stationed for 3 years in Europe serving at the Airforce base in Manchester, England and Madrid Spain. After the military, Mike pursued his passion for skydiving. He participated in many skydiving competitions from 1962-1966. He met his wife Lynn in Amarillo, Texas and they were eventually married in San Diego on April 1, 1967 in a small chapel.
Mike's jobs after the two were married consisted mostly of working for commercial airlines as an A & P mechanic for the next 10 years. He moved from California to Missouri, and back to California again. One fateful day he haphazardly applied for a position in some far-away country that was barely talked about. Six months later, Mike and his family were packing their belongings and heading to Saudi Arabia, hoping for greener pastures.
The Banvilles arrived in Dhahran, Saudi Arabia on March 21, 1974 and remained there until Mike retired from ARAMCO in July, 1995. During his 21 years of service, starting as a line mechanic, he was promoted many times and left as the Assistant Superintendent of ARAMCO Aviation. Throughout his career, he worked on all types of fixed wing aircraft, helicopters as well. He won prestigious awards from Air New Zealand and Bell Helicopter for his contributions to their programs. During Desert Storm, Mike provided assistance to coalition military aircraft operations, and was awarded a plaque signed by the US Army Chief of Staff and Secretary of the Army in appreciation for his invaluable knowledge of helicopter functionality in the desert.
Mike and Lynn raised their children in Saudi Arabia and during that time Mike was a very active and involved father, coaching James' little league baseball teams, one of which he led to the Little League World Series. He also served as gymkhana chairman, event judge, and built countless jumps for Cristine's horse riding competitions. He spent much of his spare time working on old cars with his major project being a complete re-build of a VW Beetle into a state of the art dune buggy.
During his time overseas, Mike was able to travel extensively with his family and to many international locations. Some of the countries visited he really liked were England, Holland, Austria, Germany, France, New Zealand, Italy, Greece, China, The Philippines, Egypt and Hong Kong.
After leaving Saudi Arabia, Mike worked in a couple of Aviation supervising positions, until he finally moved to Yuma, AZ in 2001. He enjoyed the community and always said, "It felt like home." He continued to work at Yuma Proving Ground until 2012.
A graveside service will be held Friday, September 9, 2016 at 1:30pm at Miramar National Cemetery in San Diego, CA with a celebration of life to follow. In lieu of flowers, the family requests that you make a donation to Alzheimer's Association (alz.org), Yuma Food Bank, or Yuma County Humane Society in the name of Michael Banville.