Mildred Jean Guenther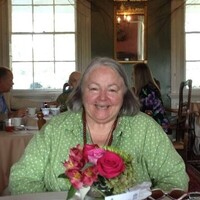 Mildred (Millie) Jean Guenther, 73 of California, MD passed away on August 16, 2021 at MedStar Georgetown Hospital with her loving family at her side.
She was born on December 14, 1947 in Brooklyn, NY to the late Joseph Samoyedna and Gertrude Bukovsky Samoyedna.
Pursuing her passion, Millie attended Nursing School at the Westchester School of Nursing "Grasslands" in Elmsford, New York. It was during this period that Millie met a dashing young Chemical Engineering student named Ralph and it was Kismet. Through persistence, they went on a date, and then it was a whirlwind courtship. In 1968, Millie married her beloved husband, Raphael ("Ralph") Harold Guenther, Jr. in Yonkers, NY. Together, they celebrated over 53 wonderful years of marriage. They had three wonderful daughters that traveled the world with them on their madcap adventures.
These adventures led to Millie becoming a volunteer with the Red Cross while they lived in Saudi Arabia, a Hospice Nurse, a Holistic Nurse, a Reiki Master, an Ordained Minister, and eventually a solo-practitioner of the Holistic Healing Arts. Millie helped all who came to her and lovingly served wherever she was called, including Peru where she received the Florence Nightingale Natural Healer award.
In addition to her husband Ralph, Millie is also survived by their three daughters: Kim Green (John) of Hillsborough, NC, Lori Wentworth (James) of Great Mills, MD, Cindy Goddard (Terry) of Westminster, MD, and was predeceased by their son Paul; her siblings: Joseph Samoyedna, Jr. (Kent Roberts) of Staten Island, NY and Louise Callahan-Byrne of Bronx, NY; her grandchildren: Fiona Green, Miriam Green, Cody Wentworth, Tyler Wentworth, Maeve Goddard, Natalie Goddard and Odette Goddard; and many extended family and friends.
In lieu of services, the family will be taking Millie on another epic world tour to top all previous adventures in the history of Clan Guenther.
Memorial contributions may be made to the Alzheimer's Association, 10665 Stanhaven Place, Suite 205D, White Plains, MD 20695 and Hospice of St. Mary's, P.O. Box 625, Leonardtown, MD 20650.
Arrangements by the Brinsfield Funeral Home, P.A.
Condolences may be sent to Lori Guenther Wentworth, 22090 Clipper Drive, Great Mills, Maryland 20634.