Mildred Ruth Mirabella Ferrando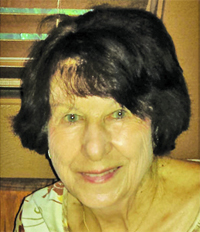 Mildred Ruth (neé Mirabella) Ferrando of Sonoma, our beloved family matriarch, passed away on Friday, May 12, 2017, she was 88.
Mildred (Millie) was born in Brooklyn, New York on October 5, 1928. She was the daughter of Peter and Mildred Mirabella, and the younger sister to Ruth and Peter Mirabella, Jr.
Millie grew up in New York and attended Our Lady of Guadalupe Catholic elementary school in Brooklyn, she went on to graduate from a Catholic High School in New York and then to college. She continued to study very hard to receive credentials as a Secretary and Administrative Assistant. These credentials provided her the opportunity to travel to Africa and Algiers where she worked with Aramco (Arabian American Oil Company), today, the world's most valuable company.
In the early 50s she found her way back to the New York and New Jersey area and continued working as a secretary and administrative assistant for Colgate-Palmolive in New York. Her passion for traveling to new sites and opportunities also sustained her courage to do so, and thus Mildred found her way out to California independently.
Along this trip she met her first husband, Walter Davis. They married in June 1954 in Alameda County, bought a home in Richmond in early 1959 and had their first child. In 1963 they had a second child and moved to Sonoma Valley to a larger home. This marriage didn't work out, however years later in 1980 she met Tom Ferrando of Sonoma, who was more than honored to lovingly take her hand in marriage. They began an extraordinary life together combining their two life's passions into one, complementing one another upon an incredible journey ahead.
Within their mutual life's values they enjoyed participating in the Sonoma County community, by getting involved in the local charities, benefits, and fundraisers. They loved helping and supporting this community in any way they possibly could and thus relished being a part of it. They were often found on outings at many of our premier local Sonoma and Bay Area events. They absolutely loved being together at the theater, plays, musicals, culinary/wine, and community events, and in turn living their lives to the fullest. They indeed didn't stop there; they often set sail and traveled the bountiful world together.
In between these magical years they wholeheartedly remained forever loving and generous with time to their family and grandchildren while sharing within it all they possibly could. There were seemingly endless school functions which were attended in support of their grandchildren, where they immensely prided themselves as Grandma and Grandpa. They always made time to do what was important within their core values and because of this Millie and Tom were truly a match made in heaven, and thus remained "happily ever after". She and Tom just recently celebrated their 36th wedding anniversary, and by the looks of it we'd swear that they were still in the honeymoon stage.
Millie Ferrando's passions consisted of an unsurpassed fearless and courageous will, which was said to be recognized as a young girl (and perhaps a bit ahead of its time). Her steadfast independence paved an affirmative path of inspiration upon many people, friends and colleagues who she positively influenced towards a new horizon; Beautiful and full of Adventure. It was these very qualities, that, coupled with her magnificent unwavering faith, (and despite limited resources at the time in the latter 1960s) she still made certain to find a way to place her two children into St. Francis Solano Catholic school. She was involved in her children's lives and in the school in any constructive way she could, this was important to her. She volunteered her time at school functions and fundraising benefits and she truly loved being a part of it all. Growing-up in a traditional Italian family-style environment continuously surrounded her with lots of food and friends, as every weekend for many years her home would be filled with both. Dozens and dozens of her mother's and fathers' families and friends congregating in the celebration of life. She remembered her father making his famous caponata on the kitchen countertop from scratch, using a can to roll and smash fresh tomatoes, garlic, olives, artichoke hearts, and other such Italian delicacies which were later savored by all of their guests along with an abundance of other homemade foods and spirits, and always served with lots of live music where her father Peter played the piano and sang along with others.
Millie's longtime dear friend of 83 years Gloria "Glo-Girl" said that back then (and even to this day) she has never seen or been a part of anything quite like it. Aside from this when growing up she and her friends often entertained themselves with many shows, musicals, and theater. They were also often joined together at Coney Island Amusement Park enjoying the beach and rides, where she loved the thrill of it all, especially the famous roller coaster.
Later she had brought her children back to the East Coast a few times where they made the World's Fair in 1964-65, along with Flushing Meadows Corona Park and other such attractions which had previously helped to mold and enrich Millie's own life.
In the early 70s while fully embracing her commitment to motherhood and homemaking she joined the Sonoma Valley Chorale, as a Soprano, to help reunite and rekindle her heart back to that youthfulness of her upbringing.
As a young mother she loved cooking, gardening, and tending to her children and their lives, which included the recognition and celebration of each and every holiday, birthday, and important events for that "very special moment in time" that it was for them. This was also so genuinely and thoughtfully expressed upon every given day through a tremendous extended network of her family and friends, while continuously writing and sending cards and other meaningful sentiments year after year. Her forever loving, caring thoughts, notes and gestures will always be remembered by many, she was indeed an exceptionally special person.
She is survived by her husband Tom, by her children, Jan and Andy Davis, grandchildren Jason, Keaton and Arabella Davis. She is also survived by her niece and nephew, John (Caroline) Ferrando, and Bobbi (Larry) Hall. She is also survived by great nephew, Eddy Hall and numerous other cousins' extended family and friends, whose East Coast roots came in through Ellis Island and from there found their way throughout America.
Friends are invited to attend a Celebration of her life and Memorial services at Duggan's Mission Chapel, 525 West Napa Street, Sonoma, CA 95476, on Saturday, June 24, 2017 at 11:00 a.m.