Muhammad Asghar Fazli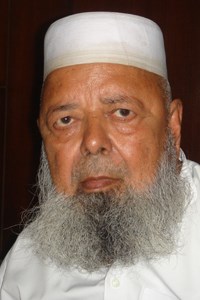 Mohammad Asghar Fazli
Former Aramcon Mr. Muhammad Asghar Fazli passed away on September 25, 2011 in Karachi, Pakistan. Mr. Fazli was born on October 14, 1932 in State Kapur Thala East Punjab India and migrated to Pakistan along with his parents in 1947.
Mr. Mohammad Asghar Fazli joined Aramco in 1955 and started his career from Abqaiq. He stayed in Abqaiq and stayed there for thirteen years later he was transferred to Dhahran and remain there until his early retirement in 1983. He worked for Aramco for twenty eight years. News of his retirement was published in the Arabian Sun: Muhammad Asghar Fazli Retires After 28 Years of Aramco Service.
He survived by three sons and one daughter. The details for his children is as follows:
Engr Fouad Muhammad Asghar; is a Mechanical Engineer currently working as Chief Engineer (Projects & Contracts) with Pakistan Petroleum Limited. He is married to Fatima and has one son Master Yahya Fouad and one daughter Baby Sumaiyah Fouad. Another son, Sa'ad Muhammad Asghar, lives with Fouad and his family.
Omar Muhammad Asghar; is a qualified religious scholar and at present he is associated with Defense Housing Authority, Karachi Pakistan. He is married to Sajida and has four children, son Abdullah and daughters Najiyah, Jaziyah and Khansa.
Ms. Naheed Asghar; an educationalist; currently taking care of her two sons, Usman a Mechanical Engineer, Bilal a Geologist and three daughters, Rabia, Sidra and Huda. She also has nine grandchildren.
Mrs. Shamsunnisa, wife of Mr Muhammad Asghar Fazli, died on August 26, 2010. Dr. Sumaiyah Asghar, daughter of Mr Muhammad Asghar Fazli, died on February 21, 2001. She is survived by her husband Dr. Arshad Hussain, Eye Specialist.
Correspondence may kindly be forwarded to: Engr Fouad Muhammad Asghar, E-9/2, Block No.-4, Gulshan-e-Iqbal, Karachi-75300 Pakistan. You can also write to [email protected] or [email protected].