Nellie Ann Flynn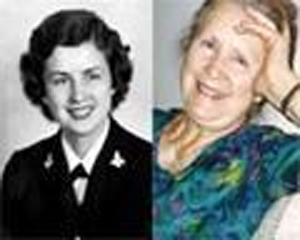 Nellie Ann "Beatty" Flynn (age 87) of Yorba Linda, passed away on October 10, 2016 surrounded by her loving family following a brief battle with pancreatic cancer. Nellie was born on March 1, 1929 in Milwaukee, Wisconsin to Elsie and Loren Beatty. Nellie was the eldest of 11 children.
Living most of her younger years in Wisconsin, Nellie graduated from Shullsburg HS in 1946, where she excelled in sports, was a talented artist and Homecoming Queen. Upon graduation from high school, she enrolled at University of Madison, where she would study art. She later moved to New York, and modeled for the Barbizon agency, but left NY to reunite with her family in Wisconsin, she later moved to Seattle, WA. While in Washington, she made the decision to enlist in the U.S. Navy. While in the Navy, Nellie was a member of the Blue Jacket choir, the Navy Softball and Basketball team, Drill squad and crowned Miss Navy Memphis in their beauty pageant.
After 4 years of Navy service, Nellie used her GI Bill to enroll in the nursing school, where she was accepted at County General of Los Angeles in 1953 and became a Registered Nurse.
Upon graduation from nursing career, she worked at Los Angeles County General hospital and would later meet her husband, Patrick Flynn and start their family, eventually settling in Yorba Linda in 1962. Nellie left nursing, and her new job was "full time Mom". She was a loving, devoted and protective mother to her seven children. She was the Navigator of the ship, and "Mother of The Year" to her children. She was resourceful, and could do almost anything! Plumbing, carpenter, tile layer, painter, and of course a friend! She did it ALL!
In later years, Nellie would travel on many world adventures, and join her husband in Saudi Arabia where he worked for Aramco. She would return to the United States, and then eventually return to nursing, at the California Youth Authority in Norwalk. Nellie most enjoyed spending her time in Yorba Linda, tending to her beautiful garden, watching the birds, and assorted wildlife in her yard on her porch swing. She also was a member of The Sons Of Norway, and enjoyed the activities and meeting so many wonderful people. She made Rosettes in the Norway booth at the Annual Street Fair in Orange, and did Rosemaling (Norwegian painting) with her friends at Camp Norge each year.
Nellie was "Mom" to many of her children's friends, and was a wonderful grandma and great-grandma as well. She would stop whatever she was doing, if she could offer help to one of her children, or others in need. She was generous with her time, and always there to listen. She will be missed by all those who knew her, and loved always.
Nellie is survived by her husband, Patrick; sons, Patrick Jr., Kevin, Bryan (Cory), Shawn (Tiffany); her daughters, Maureen Flynn-Becerra, Hillary Ondo (Robert) and Kathleen; siblings, Leslie, Laurie, Lynn, Lerie, Marty, Lester, Robert, (Tad, Karen and Donnie deceased); 18 grandchildren and 2 great-grandchildren.
A Celebration of Life will be held on October 19 at 1:00pm, at the United Methodist Church in Yorba Linda. Reception immediately following. Nellie will be buried at Riverside National Cemetery the following day.
In lieu of flowers, please consider a donation to Pancreatic Research, your favorite charity , or do something nice for someone. Funeral Service by: Scott McAulay Family New Options
Funeral Services, Fullerton CA