Nicholas Widhammer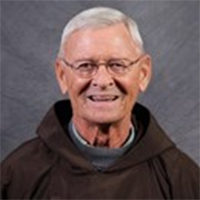 Fr. Nicholas Widhammer, Capuchin Friar and Priest - known fondly by many Aramcons as Father Nick - died Tuesday, October 3, 2017, at the age of 81.
Fr. Nick was born December 8, 1935, in Milwaukee, WI, son of Franz and Celia Widhammer.
He was invested in 1954 and perpetually professed in 1958. He was ordained to the priesthood in 1963.
Fr. Nick was on staff at St. Lawrence Seminary, Mt. Calvary, WI, from 1964-1979 as a recruiter for the school. Following those years at SLS, he served as vocation director for the province for one year, before joining the pastoral staff at St. Francis Parish in Milwaukee from 1980-1985. He spent eight years in Saudi Arabia from 1985-1993; then served on the parish staff at St. Patrick Church in St. Paul, MN from 1993-1994, before returning to Saudi Arabia for another 10 years. In 2004, he began pastoral ministry in Tucson, Arizona.
Fr. Nick is survived by his sister, Rita Crabtree of Holman, WI, as well as his Capuchin Brothers with whom he lived, ministered, and prayed for the past 63 years.
A Mass of Christian Burial will be held at 10:30 AM on Monday, October 9, 2017, at the St. Lawrence Seminary Chapel, 301 Church Street, Mount Calvary, WI 53057. Rev. Michael Sullivan, OFM Cap. Provincial Minister, will officiate with the assistance of Rev. Gary Wegner, OFM Cap. Fr. Nick's cremated remains will be laid to rest in the St. Lawrence Friary Cemetery at a later date.
Visitation: Family and friends may visit at the St. Lawrence Seminary Chapel in Mount Calvary on Sunday, October 8th from 6:00 PM until 7:00 PM with a prayer service beginning at 7:00 PM. Visitation will continue on Monday, October 9th from 9:00 AM until 10:15 AM.
For additional information, please contact the Sippel Funeral Home in St. Cloud, WI, (920) 999-2291