Owen Oxley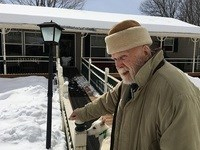 Owen Oxley, 93, died peacefully on September 14, 2021. Owen was born in Staten Island, New York to G. Albert and Mary Lamey Oxley on December 20, 1927, the youngest of four sons. At the age of 6, Owen and his father traveled by steamer to Walton-on-the Naze, England, where the Oxley family resided. The family business, undertaking and building, became a part of Owen's everyday life. He attended school, finishing up in nearby Colchester. At 17, he enlisted in the American Army. He served with the Signal Corps in France and later with the occupation forces in Germany. In 1948 he returned to the United States. After a year of civilian life, he joined Aramco, the Arabian-American Oil Company. He spent the next five years in Saudi Arabia working as a photographer, documenting life there: he photographed exploration crews in the desert and took official photographs of members of the Saudi royal family. He worked with Aramco's public relations division as well.
Owen met a young woman from Texas who was working for Aramco as a keypunch operator, Wanda Marshall; they married on December 11, 1952, on Bahrain Island. In January 1955 Wanda gave birth to a daughter, Cassandra Lea. Soon after, the three of them departed Saudi Arabia, and traveled to Walton-on-the-Naze for everyone to meet Wanda and their daughter. From there they settled in Tarrytown, New York, and then Staten Island. Owen attended Wagner College on Staten Island. Wanda gave birth to another daughter, Alyssa Ann, in 1958. Around 1960 they moved to Kendall Park, New Jersey. Owen worked as a public relations executive at several firms in Manhattan, commuting daily from their home. The Oxley family later moved to Lambertville, New Jersey and then Minneapolis, Minnesota. Owen, became involved with the Master's golf tournament in Georgia where he would make a yearly pilgrimage there filming the highlights for the club. Owen moved to Pawling, New York and later Norfolk, Connecticut; for the past ten years he lived in Vergennes, Vermont with his daughter, Alyssa.
Owen was a remarkable man, self-made, adventurous, and well spoken. He was truly the last of a generation, straight talking, no nonsense, and in many ways larger than life. He had a wonderful sense of humor, and was generous and always encouraging, a realist yet a great believer in dreams and possibilities. He was a dog and cat lover and enjoyed the company of many in his lifetime.
Owen is survived by his daughters, Cassandra Oxley of Boxborough, Massachusetts, and Alyssa Oxley of Vergennes, Vermont, and grandchildren Madeleine Davidson Knutson of Brooklyn, New York; Eliza Jane Davidson of San Diego; and Benjamin Henry Oxley-Clark of Boxborough.
In keeping with Owen's wishes, there will be no services at this time. If you would like to donate in his name, you might consider a donation to the Walton & Frinton Lifeboat Station, The Parade, Walton-on-the-Naze, Essex, England CO14 8EA.