Paul E. Wernsdorfer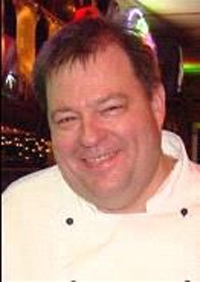 Paul E. Wernsdorfer, Executive Chef for more than 20 years at Fisherman's Inn in Kent Narrows, died on Oct. 3, 2016, at his mother's home in Timonium, MD, surrounded by his family. He was 60.
The son of John G. and Eileen C. Wernsdorfer, Paul was born in Dhahran, Saudi Arabia, a circumstance of life that allowed many opportunities to travel across the Middle East, Europe, and the United States.
Paul attended Gordonstoun School in Elgin, Scotland, from 1970 to 1974, and then St. Thomas More School in Oakdale, Connecticut, from 1974 to 1975. From there he studied geology at the University of Arizona until he decided to pursue a culinary career. He graduated from the esteemed Johnson & Wales University in Providence, Rhode Island, in November 1983.
Paul embarked on his career as a chef with the Gilbert Robinson company in Kansas City, Missouri, in April 1984. He taught for a short time in the culinary program at Chesapeake College in Wye Mills, MD.
Paul frequently impressed his friends and family with his fast study and extensive knowledge of how things worked, including human biology and behavior, kitchen science, and the physical world. He was a self-learned technology buff. His interest began with the simple desire to catalog his recipes in a hypercard program, and then there was no stopping him.
Paul always had a fine aesthetic sensibility. In his youth, he enjoyed painting and drawing, and as a chef, that talent extended to his food presentation. Beautiful and delicious food was Paul's offering of love to his friends, family, and customers.
During his years at school in Scotland, Paul developed a love of the sea, and he was happy to have found good work and a home in the watery world of Kent Island, MD.
Above all, he was kind and sensible, always giving freely of his time and counsel.
Paul is survived by his mother, Eileen; brothers, Peter and Andy; sister, Lesley Ann; nephew, Philip; nieces, Laura, Paige, Timothea, and Emma; numerous cousins in the U.S., England; and so very many friends in the Chesapeake Bay area.
As a tribute to Paul, the family requests donations to Gilchrist Hospice Care. Please see their website www.gilchristhospice.org for details.
There will be a celebration of Paul's life from 3 p.m. to 6 p.m. on Saturday, Oct. 29, at Fisherman's Crab Deck, 3032 Kent Narrows Way South, Grasonville.