Qaiser Majeed Khan
"To Almighty Allah we belong, and to Him is our return."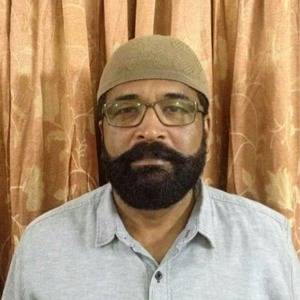 Qaiser Majeed Khan was born on December 25, 1957 at Peshawar, Pakistan. He was the second eldest among four brothers (Arshad Majeed Khan, Baber Majeed Khan and Azhar Majeed Khan). He joined Dhahran Dental Services Department, Saudi Aramco in 1979. Later he moved to Ras Abu Ali and then to Tanajib Producing Department from where he took early retirement in 2007. He married on January 5, 1984 to Razia Begum and has four children;
Tanveer Qaiser Khan has completed his Master's in Professional Accounting from Holme's Institute and lives in Melbourne, Australia.
Daughter, Juhaynah has achieved Master's degree from Karachi University in Human Resources (HR).
Son, Hasham has completed his Diploma in Business Management from Victorian Institute, Melbourne, Australia.
Son, Saad has completed his Bachelor of Engineering in Computer and Information Systems from NED University of Engineering and Technology (NEDUET) Karachi.
His only grandson Arham Danish, son of Juhaynah, is in Second Standard and becoming Hafiz-ul-Quran from Islamic Missionary Public School in Karachi.
Qaiser M. Khan with his Dental Clinic Dhahran friends
Qaiser receiving his service award from Mohammad Zahrani, Manager RTPD at Abu Ali
He was one of the greatest father and a husband and was a friend to all his children and always inspired them to move forward. He was punctual and always urges others to be punctual. After retirement, he always kept himself busy in learning new things like he has done with the Arabic Language Course from Karachi University. He always eats healthy and keeps himself fit.
He was hospitalized for few days but could not survive and finally, his soul departed on March 28, 2017. May ALLAH grant him the highest place in Paradise.
For Condolence please contact:
Hasham Qaiser Khan
Cell: +92-331-388-7789
E-Mail: [email protected]