Ranee A. Gunaratne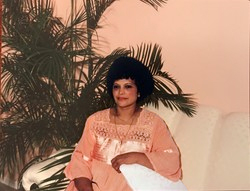 Ranee A. Gunaratne passed away peacefully in her Spring, TX home on Monday, August 21, 2017 at the age of 75.
Ranee was born in Colombo, Sri Lanka to the late Albert and Hazel Fernando on October 19, 1941. As a young girl, she attended St. Anne's Convent in Wattala, where she would ultimately meet her loving husband of more than 57 years.
From the moment they met, Ranee and Leslie were inseparable. In as many years as they were wed, they never spent more than 10 days apart from each other.
In 1968, the young couple made the move from Sri Lanka to Staten Island, NY in effort to create a better life for themselves and their 3 young children. Once settled, Ranee aided her husband in moving over one hundred of their relatives, generating a massive movement of Sri Lankans to America.
After relocating to Houston, TX in 1979, Ranee began her career as an Executive Assistant at Aramco Services Company, where she devoted more than 20 years. Though she took much pride in her career, nothing brought Ranee more joy than her grandchildren, great grandchildren and cooking for others.  She lived to feed others and would happily divulge the fine details of how she made each dish to anyone who would listen.
Ranee is survived by her husband Leslie Gunaratne; children, Sam Gunaratne and Sandiya Venturato; loving daughter-in-law, Sakuntala Gunaratne; brother, Annesley Fernando; 5 grandchildren and 4 great grandchildren. She was preceded in death by her son, Ravi Gunaratne.
Public viewing and vigil to be held at Klein Funeral Home-Champions Forest on Sunday, August 27th at 5pm. Funeral Service will be held Monday, August 28th at 11am at St. Ignatius of Loyola Catholic Church in Spring, Texas, burial to follow.