Richard Carvel Hasson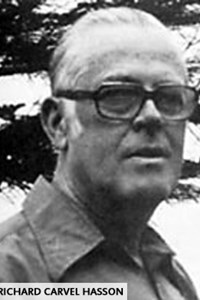 Richard Carvel Hasson was born in Archer City, Texas, on April 26, 1923, and grew up on a farm. He attended high school in Lubbock, Texas, graduating in 1940 and enrolling in Texas Technological College. His college studies were interrupted in 1942 when he became a civilian flight instructor in the Navy Flight Training Program where he served until 1944 when he entered the United States Air Force, serving as a technician in the China-Burma-India Theater until 1946. He returned to Texas Tech from the war, entering in 1947, and received a B.S. Degree in 1949 and an M.S. in 1950. He would later take graduate courses at Columbia University where Dr. Marshall Kay, the author of "The Classification of Geosynclines," served as one of his sponsors for AAPG membership.
In early 1951, he answered an ARAMCO ad and went to work as a subsurface geologist for ARAMCO in Saudi Arabia. His early assignments were in the development drilling of Ghawar and Safaniya fields. He then moved on to regional stratigraphic studies with ARAMCO.
In 1956, ARAMCO transferred him to their New York office where he met and married Phyllis Fairbanks, an ARAMCO micropaleontologist.
In 1959, he returned to Saudi Arabia with his family and eventually became ARAMCO's Senior Geologist-Exploitation. In 1966, he was transferred to Mobil (one of the ARAMCO partners) in New York City to become their Exploration Technical Advisor for the Middle East. For the next 18 years, he spent much of his time as Mobil's representative attending exploration advisory meetings at Abu Dhabi Petroleum Company, Iraq Petroleum Company, OSCO (Iranian Consortium), Arabian American Oil Company, and the Qatar Petroleum Company.
His final assignment before retiring in 1984 was with STEMCO, a company set up in Saudi Arabia by the U.S. companies involved with ARAMCO to interface with ARAMCO on exploration and producing programs.
Richard C. Hasson died in Fort Pierce, Florida, on January 24, 1990, at the age of 66. He is survived by his wife, Phyllis Fairbanks Hasson, now of Austin, Texas, sons Mark of Dallas, and Richard of West Palm Beach, and a brother, John Hasson of Lubbock Texas.