Ricky Wayne Ritchie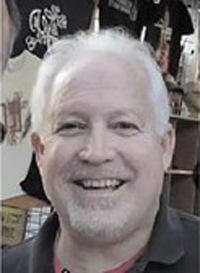 Ricky Wayne Ritchie, 57, of Camdenton, Missouri passed away on November 11th, 2017 at University Hospital, Colombia, Missouri.
Rick was born October 15th, 1960 in Levelland, Texas. He is survived by his daughter, Morgan Ritchie of London, England; his mother, Barbara Roeder and step-father Michael Roeder of Alamo, Texas; his father Stanley Ritchie and step-mother Ruthe Ritchie of Denison, Texas; his sisters Debi Ritchie of San Antonio, Texas and Linda Cole and husband Mark Cole of Denton, Texas; and numerous nieces, nephews, cousins and special friends around the world.
Rick accepted Christ as a boy and was a very active member of Grace Temple Baptist Church in Denton, Texas through his high school years. He received a Bachelors of Business Administration Degree in Accounting from Texas Tech University, Lubbock, Texas in 1984. Rick earned his CPA qualification shortly thereafter. Rick never worked in the US in the accounting profession, coming to Saudi Arabia fresh out of Texas Tech University. Rick started his accounting career with Deloitte Al-Juraid in 1984 and then moved to Saudi Aramco in November of 1988 where he spent the next 28 years-32 years in total in Saudi Arabia.
Rick was a loyal member of the Harley Davidson Motorcycle Community where he served as the Director of the Dhahran Harley Owners Group Chapter. He led the group on the first ever crossing of the causeway from Arabia to Bahrain. Over the years, Rick and his friends enjoyed several Harley Davidson rallies and numerous rides around the world including Poland, Germany, Nova Scotia and Oman.
Rick left Saudi Arabia on November 1st, 2016 to begin his long-anticipated retirement. In his year of retirement, he accomplished many of his dreams and goals including hosting his friends and family from far and wide in his beautiful new home on Lake of the Ozarks. Rick enjoyed sunsets on his dock, watching the eagles and deer from the balcony of his home and spending time cruising the lake. He was a fun, kind and generous man who was a friend to all and always made sure everyone was having a good time.
Although Rick's life was short, he lived more in his 57 years than most people do in their entire lives - traveling around the world, visiting with friends and family and making the most of every day.
A memorial service will be held at DeBerry Funeral Home, W. University Dr., at 1 pm on Saturday, December, 9th. The family will host visitation beginning at noon. A celebration of life get-together will follow the service.
In lieu of flowers, donations can be made in Rick's honor to The Harley Davidson Foundation, American Red Cross, and American Eagle Foundation.