Robert F. Naples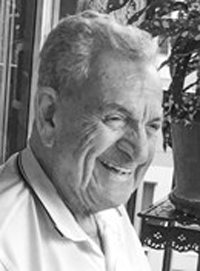 After a long and courageous battle with cancer, Robert Naples died at his home in Naples, Florida, surrounded by his family on November 29, 2017.
Bob was born on August 17, 1929, in Flushing, New York, son of the late Anthony Naples and Catherine (Flori). He was part of a large and loving family.
Bob graduated from Flushing High School, Flushing, NY, where he was a member of the Flushing High Golf team, and band. He never forgot his childhood friends from sandlot football with the St. Mary's Bishops and enjoying the Flushing YMCA.
Bob received an appointment to attend the United States Merchant Marine Academy, at Kings Point, NY where he received a Bachelor's degree in Mechanical Engineering. While at the Academy he played defensive end on the football team and was a two-time intramural boxing champion. Bob also played the trumpet in the Regimental Band and had the privilege of marching in the Inauguration parade for Dwight D. Eisenhower in Washington, DC. The years at the Academy forged his life which he continued to live by their motto, Acta Non Verba - "Deeds Not Words".
After graduation, Bob sailed on a diesel drive Sun Oil tanker. He activated his commission as an Ensign in the United States Navy and was on active duty with the USN during the Korean War from 1953-1955 aboard the USS Corson as Engineering Officer achieving the rank of Lieutenant.
On September 4, 1954, Bob married his bride for life, Frances Barry of Astoria, New York. While in the Navy they lived at the Naval Bases in Alameda and San Diego, California. Bob & Frances were blessed with 6 children, one of whom - George - tragically died in 1975. They lived in Scotia, New York until 1986 and the family also adored their home in Blue Mt. Lake, NY. After Scotia they moved to Saratoga Springs, NY, eventually moving to Naples, Fl.
Bob was an avid golfer. He was very involved in making golf clubs for auctions and raffles at local hospitals and schools in New York and Naples, Fl. For several years he presented The First Tee of Naples with sets of golf clubs for the children in the program. Bob was a former member of the Edison Club, Rexford, NY, The Saratoga Golf & Polo Club and Colliers Reserve Country Club, Naples, Fl.
Bob was first and foremost a family man and enjoyed camping with the family on Lake George, NY. In the winter there was never-ending snow skiing in the North East and Canada. He was a huge presence in their lives and always there for them. They all enjoyed cooking the famous pasta sauce "La Salsa Delgi-Dei" with him. Bob was treasured by his family, he was the center of their gravity.
Following his discharge from the Navy, Bob joined the General Electric Co. as a sales engineer in Lynn, Mass. He was transferred to the Gas Turbine Department in Schenectady, NY in 1955. Bob held several engineering assignments in gas turbine before being named manager of product planning and market research in 1963. His favorite assignments were being manager of test, and working start-up on the pipeline for Texas Eastern and Aramco in Saudi Arabia. Bob's last GE appointment was manager of international marketing with responsibility for the coordination of all overseas marketing and marine sales.
In 1977, Bob formed Robert F. Naples Assoc. in Schenectady, NY and traveled throughout the United States, Europe, and the far east. The company continues today.
Bob is survived by his loving and devoted wife Frances of 63 years, their children; Robert, Elizabeth, Mary (her husband Anthony) Guzek, James and John (his wife Katie Lord) Naples, 9 grandchildren, 1 great-grandchild, his brother Anthony (Elaine), sister Catherine Francis (late husband Alfred Francis), his sisters-in-law Marie (wife of the late Dr. Jerry F. Naples) and Genevieve (wife of the late Carl Naples). Together with a host of nieces, nephews, extended family and friends, he will be greatly missed.
In addition to his parents, Bob is also predeceased by his sisters Rose Mary (John) Gorrono, Dolores (Lenard) Nelson, Cecilia (Thomas) Madden, and Ann Louise (George) Robbins.
In lieu of flowers, the family requests that any contributions be sent to Christ Child Society, PO Box 770179, Naples, Fl. 34107 or Avow Hospice, 1095 Whippoorwill Lane, Naples, Fl. 34105.
Relatives and friends may call from 5 to 7 pm Wednesday, Dec. 6, 2017, at the William J. Burke & Sons/Bussing & Cunniff Funeral Homes, 628 North Broadway, Saratoga Springs (518-584-5373).
A Mass of Christian Burial will be celebrated at 9 am Thursday, Dec. 7, 2017, at the Church of the Immaculate Conception, 400 Saratoga Road, Scotia.
Burial with military honors will follow in the family plot at Most Holy Redeemer Cemetery, Troy Schenectady Rd. Schenectady.