Robin Legg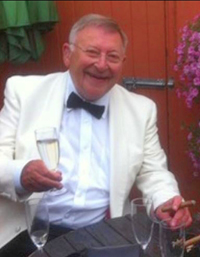 It is with sadness we announce, following a short illness, Robin Legg of Haddenham, England passed away peacefully surrounded by his family. He is survived by his children Robert and Melissa together with his grandchildren James and Jennifer. He was husband to the late Myra Legg.
Robin joined Aramco in 1975 residing in Abqaiq, working with the Southern Area Producing team and became an enthusiastic member of the AEA. In 1979 he was joined by his family in Udhailiyah and ended his Aramco career back in the Friendly City of Abqaiq in 1991. Many long-lasting friendships endure from the Aramco days along with treasured memories.
He was a lover of all things French, traveling to France whenever he could to sample fine wines and gastronomy and enjoyed spending time with his family.
The funeral service is to take place on Friday 18 May 2018 at St Mary's, Haddenham.
Contact can be made via [email protected].