Russell Jerry Husted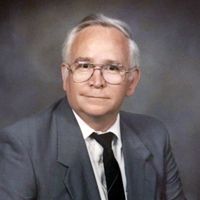 Russell Jerry Husted, age 76, of Mena, Arkansas, died Tuesday, December 4, 2018 in Hot Springs. He was born on Sunday, January 4, 1942 to Glenn Sylvenus and Florence Lillian Studebaker Husted in Alma, Michigan.
Russell lived his life serving the Lord, his family and others. Russell began preaching the Gospel of Jesus Christ when he was 19 years old. He was very active in prison ministries and was the pastor of Feed my Sheep Ministries since 1991; making sure the hungry were fed both physically and spiritually. He loved seeing people come to a saving knowledge of Jesus Christ. Russell loved his family and spending time with his wife and children, but especially his grandchildren. Russell was a Certified Public Accountant and worked for Saudi Aramco Oil Company for many years. Russell was a loving husband, father, grandfather, brother and a great friend who will be missed by all who knew him.
He is preceded in death by his parents and brother, Carl Husted.
Russell is survived by his wife, Opal Husted of Mena; five sons and daughters in law, Russell (Dh 79) and Rachel Husted of Yelm, Washington, Randy and Theresa Webster of Huffman, Texas, Delbert (Dh 82) and Elainey Husted of Huffman, Texas, Terry and Sue Dittmann of Lavaca, Arkansas and Michael and Kristy Husted of Mena; one daughter and son in law, Staci (Dh 84) and Jimmy Hosford of Houston, Texas; one brother and sister in law, Leroy and Jennie Husted of Port Richie, Florida; brothers in law, Clyde and Sue Palmer of Valliant, Oklahoma and Jay Palmer of Mena; sisters in law, Carol Husted of Shepherd, Michigan, Wanda Campbell of Valliant, Oklahoma and Cathy Dyer of Ashdown, Arkansas; eighteen grandchildren; numerous great-grandchildren; several nieces and nephews and a host of other relatives and friends.
Funeral services will be held Sunday, December 9, 2018 at 10:00 A.M. at Bowser Family Funeral Home Chapel in Mena with Pastor Cecil Willis and Delbert Husted officiating. Interment will follow in the Concord Cemetery in Ink under the direction of Bowser Family Funeral Home. No Visitation is planned.
Pallbearers are Delbert Husted, Russell Husted, Michael Husted, Randy Webster, Terry Dittman, Jacob Dittmann, Staci Husted Hosford and Jimmy Hosford.
Honorary pallbearer will be Chris Coville.