Ruth Roberts Shaw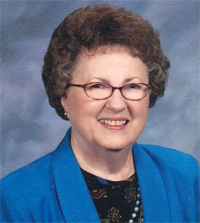 Ruth Roberts Shaw, of Spring, passed away on January 16, 2019 at the age of 90. She was the youngest of six children born to Leon and Mozelle Roberts in Mobile, Alabama on January 24, 1928.
Ruth was three years old when her family moved to Houston. She was a proud member of the Scottish Brigade Drill Team at Stephen F. Austin High School and graduated in 1945. She married her high school sweetheart, A. W. (Dub) Shaw on August 30, 1947, and they welcomed their only child, Sam, almost eight years later. They shared many adventures together, including traveling across the country and around the world. During Dub's years with Aramco, they lived in Saudi Arabia, returning to the Houston area in the late sixties. Ruth was a bookkeeper at Jones Lumber Company for many years and later co-owned RobertShaw Art Studio with her brother, Jim. Both she and Jim were gifted artists, part of a rich heritage of artistically gifted family members. Ruth also enjoyed gardening and caring for all of God's creation, especially the birds. Most of all she loved Jesus, her family, and her friends. She was gracious and kind, always treating everyone with dignity and respect.
Ruth was preceded in death by her parents, Leon and Mozelle Roberts; brothers, Junior, Jack, Bill, and Jim Roberts; sister, Doris Jones; and husband, A. W. Shaw. She is survived by her beloved son, Sam and daughter-in-law, Sharon; grandson, Stephen, who was the joy of her life; and numerous dearly loved nieces, nephews, and friends.
A reception and visitation will be held January 25, 2019 from 11:00 am to 1:00 pm, followed by a funeral service at 1:00 pm at the Chapel of Angels located in the Forest Park Lawndale Cemetery at 6900 Lawn dale Street, Houston, Texas, 77023. Committal service will take place at 2:00 pm in the Forest Park Lawndale Cemetery. Rev. Steve Aronowitz will officiate the services. Pallbearers are: Tom Brown, Dick Jones, Larry Wayne Roberts, Terry Roberts, Sam Shaw, and Stephen Shaw.
The family would like to express their deepest gratitude to all the wonderful caregivers, med aides, and staff at Spring Creek Village Assisted Living and Memory Care for loving Ruth so well and providing extraordinary care throughout the past three years. They would also like to thank the amazing sitters, as well as her special physical therapist, that assisted during Ruth's recovery from her stroke. Finally, they wish to thank the incredible care team with Rose of Texas Hospice for the compassionate support and care that enriched Ruth's life over the last several months. In lieu of flowers, donations may be made to the Alzheimer's Association or the charity of your choice.