Shafiq W. Kombargi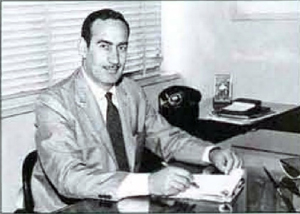 It with great sadness we share the news that Shafiq W. Kombargi, husband to Asma Kombargi and father to Amer, Alma, Aliyya, Basil and Amina, died on February 1, 2019, in Beirut, Lebanon. May God rest his soul in peace and give strength and solace to his family.
Mr. Kombargi will not only be remembered as a loving husband and father, but also as one of the leading bridge-builders between the United States and the Arab world. Counting his 22 years in Houston, Mr. Kombargi worked a total of 50 years with various subsidiaries of Aramco in Lebanon, the Netherlands and the U.S.
Born in Jaffa and a refugee of the Arab-Israeli War of 1948, Mr. Kombargi left Palestine to Amman, Jordan, and then on to Beirut, Lebanon. It was there he earned his bachelor's degree in political science at the American University of Beirut and met his wife, Asma.
In 1949, when Aramco opened recruiting offices in Lebanon, Jordan and Gaza, Mr. Kombargi was hired on as a recruiting advisor in Beirut. Later, he became a representative of Aramco Overseas Company, handling both recruitment, purchasing, and traffic duties for a region that included Lebanon, Syria, Egypt and Jordan. One of his first assignments included buying and shipping fresh fruits and vegetables to Saudi Arabia's Eastern Province.
In 1974, when AOC's offices were integrated with those of the Trans Arabian Pipeline Company (Tapline), Mr. Kombargi was named general manager in charge of administration of both companies. The onset of civil strife in the region transferred him to The Hague, The Netherlands. In 1977, he moved to the U.S., where he served as administrator of the Foreign Service Employment Department at Aramco Services Company in Houston, Texas. In 1980, he was named director of Public Affairs at ASC.
When Mr. Kombargi and his family arrived in the U.S., he stayed active on the cultural bridging front. He served on the board of the Arab-American Cultural Foundation of Washington, D.C., and was active with the American-Arab Anti-Discrimination Committee (ADC) as well as The Jerusalem Fund. In addition, he led a successful campaign to endow a chair of Arab Studies at Rice University in Houston.
For many years, Mr. Kombargi was also responsible for publishing AramcoWorld, the company's award-winning English-language cultural magazine, which is still widely distributed throughout the world.
Rising above the geopolitical turmoil of his past and building an exceptional life for his family and others, Mr. Kombargi represented a phenomenal success story of the "American Dream." His commitment to the growth and development of others and to the cross-cultural understanding between the U.S. and the Middle East solidified his legacy as an Arab-American leader and Aramco pioneer.
After his retirement from Aramco in 1999, Mr. Kombargi lived in Houston and then in Lebanon for the remainder of his days. He never had a birth certificate, but his family says he lived to be more than 100 years old. Those who spoke of him recall a gifted and charismatic trailblazer, whose friendships spanned continents, religions, and cultures. He will be greatly missed and remembered through the extraordinary stories of his family, friends and colleagues.
Shafiq Kombargi, lower right, once a Palestinian refugee himself, examines the carpentry of other Palestinian refugees in his role as an Aramco recruiter in 1951. Aramco hired hundreds of Palestinians at a time when the company needed skilled workers.
Frank Jungers and Shafiq Kombargi in Scottsdale, AZ
Jan Gerbig, Sherri Miller and Edna Catchings with Shafiq Kombargi
---
Tom Schultz, Irene Bruinsma, Shafiq Kombargi and Ruth Schultz
Ray Graham, Shafiq Kombargi, Harry Flackmeier and Roy Graham
---