Shaikh Mohammad Ahmad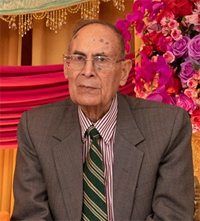 Shaikh Mohammad Ahmad was born in a modest Muslim household in Delhi, India. His childhood years in his beloved Delhi were ingrained in his heart. He migrated to Pakistan with his family in 1947.
Ahmad's life can best be described as an inspiration.
He excelled in his studies, consistently graduating top of his class. His dream was to serve in the Pakistan Air Force, and he enrolled in the prestigious training center, leaving in the early dawn hours in an open pick-up truck to make the more than hour long journey, only to be denied qualification months later due to slight weakness in his eyesight.
Undeterred, in 1954, at the tender age of 18, he became the first in his family to venture outside of Pakistan and left for Dhahran, Saudi Arabia. Starting out as an administrative aid, Ahmad became part of the team that saw and helped Aramco grow to be the dominant force that it is today. He obtained his Bachelors of Science from Indiana University through its special Aramco pilot program and continued to progress in his career to retire as a Laboratory Scientist.
In his 42-year service in Aramco, he trained countless junior employees, many of whom later would credit him for their own career advancements. He was actively involved in the Society of Petroleum Engineers and regularly attended its meetings both locally and overseas.
Ahmad was unique in many ways. He was often described as "self-made," but he always attributed his successes to His Creator. A man of measured words, he spoke only what was beneficial or remained silent. Not one to watch TV or movies, he was a paradigm for productivity. He loved the outdoors and would frequently take his family to The Half Moon Bay, Aramco Hills Park, Dammam and Al-Khobar Corniche in addition to taking them on daily outdoor walks to keep their bodies as active as their minds.
He excelled in Aramco indoor sports tournaments. His family was a fixture at the County Fairs, Aramco Hills Park picnics, Fire Station Open Houses, and at the recreational facilities at the Aramco camp. He also took his family on many road trips to the Holy Cities of Makkah and Madinah for Hajj and Umrah pilgrimages and to Riyadh to visit relatives.
Ahmad was well-known in the expatriate community from the subcontinent. He was involved in the establishment of the Pakistani International School in Al-Khobar in 1966 and was a staunch supporter and close friend of its founder, the late Malik Abbas. He was instrumental in arranging a residential building for Aramco employees in the Dammam area (Al-Momin Building).
Unbeknownst to even his children, he supported countless causes and needy relatives throughout his life. What he earned was for others, while he himself always lived humbly in extreme simplicity.
In 1995, he retired from Aramco, but ever the energetic and visionary personality, he migrated with his family to Mississauga, Canada and bought a motel. His life was busy with running the motel with his son, philanthropy, spending time with his wife, and taking great pride and joy in mentoring his children, grandkids and many others. He was diligently involved in these activities up to the very last days of his life. The words "boredom" and "inactivity" did not exist in his vocabulary.
His love for Saudi Arabia ran in his veins, and Aramco was part of his identity. He attended Aramco reunions after retiring and continued to share the work ethic, values, and lessons he had learned in his service there with his family.
Though his kidneys failed, his resilient spirit persisted. He was admitted to the ICU, intubated, but remarkably re-emerged in full soundness and sharpness of mind. His God-given bonus two weeks allowed his loved ones another opportunity to benefit from his advice and wisdom, and convey their appreciation and love to him.
Ahmad leaves behind his beloved wife Shahtaj, five children, Fatima, Hasan, Amal, Ayesha, and Asma, their spouses, 17 grandchildren, and a grandson-in-law.
Most importantly, he leaves the legacy of being in constant service to others, living simply, humbly, working hard and smart, speaking with good purpose, appreciating others, generosity, being kind to old and young, gentleness, upholding promises, and being devoted to the Lord.
May Allah grant him the highest place in Paradise, Ameen.