Sheilla Traynor Klein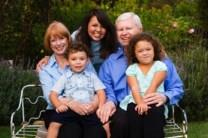 Sheilla Traynor Klein, Inspirational Matriarch, Accomplished Singer and Talented Artist/Designer, Passes.
A spirited redhead and quintessential Gemini who never forgot her Scottish roots, Sheilla Traynor Klein passed away Monday, the 12th of December 2016 – but not before blessing family, friends and coworkers with a matchless flair for nourishing their souls with heartfelt song, good food, artful style and Gaelic wit.
Sheilla, a wonderful, inspirational matriarch, joined Richard Klein, her soulmate for nearly six decades, two years and two months to the day her husband found solace from a rare blood disease. She'd spent the past two years battling lymphedema with stoic courage.
It wasn't long after Sheilla was born in 1935 just outside hometown Birmingham, Michigan, that her Scottish immigrant parents James and Sarah Traynor began calling her Lala, and for good reason. Life for Sheilla, her mother always said, was "la-di-da!" or all about elegance. Lala's innate sense of style and affinity for culture was the yin to the yang of her brother Jim, known for his mechanical skills and knack for raucous fun. Music played a vital role in the Traynor household where Sheilla and her dad sang together often. After Papa, as we called James, hand built a cottage on Lake Ore outside Hamburg, Michigan, Sheilla spent summers becoming a powerful, yet graceful swimmer. She and Jim would pedal bikes across gravel roads to pick up ice (and of course a treat for their troubles), "hurrying" home before it melted. With cars vital to the family (Papa worked at General Motors Fisher Body plant), Lala would sneak off to drive the family car at age 12, not realizing that her mom, nicknamed Mimi, always knew.
Lala began singing in the church choir, then at school events with a strong and charismatic voice. It was a talent she nurtured for life, from college at Northwestern University – where she studied speech pathology, joined the Alpha Phi sorority, served veterans as a "red stripe" hospital volunteer and met her future husband Rich during one of his college gigs as a jazz bassist – to piano bars in Houston and Manhattan, performing well into her 50s.
Once married, Sheilla became a resourceful counsel to Rich, who moved them nine times across the country before finally calling Houston home. From Baltimore to the desert Army base of Fort Hauchuca, Arizona (where son Mark was born); to Peoria, Rockford (the birthplace of daughter Kristen) and Mount Prospect, Illinois; then on to Minneapolis, Omaha and Chicago. But while supporting Rich's career, Sheilla's Scottish streak fed an independence that would see her succeed in several careers, first working for Sara Lee public relations near Chicago, then in Houston as a real estate agent, an executive recruiter for the Lollie Lowe personnel agency, a relocations specialist for Aramco and an account representative at Baker Knapp & Tubbs furniture, where Lala's knack for interior design often found her developing plans for clients. When she retired from Baker, Lala began Innervisions, serving clients in Houston and even New York City with her flair for interior design. She even designed, made and sold jewelry for a time.
A guiding light, Sheilla was a motivator, always encouraging family to believe in themselves, embrace their individuality and follow their inspirations. Her unwavering support helped Rich leave a secure job to co-found Fogarty & Klein, Inc., an advertising agency with no clients and less cash that would soon become one of the largest independent agencies in the Southwest. She counseled Kristen's pursuit of real estate banking, and kept reminding her son that he could become a professional writer, which he eventually did.
It was Sheilla who found memories of her Lake Ore cottage childhood at Cat Spring, Texas – a beautiful rural haven outside Houston – in the mid-1990s. She convinced Rich to buy a place she named "Sweet Meadow Farm." With a country farmhouse framed by sprawling Live Oaks and fronted by a coastal hayfield, Sweet Meadow became the Klein's refuge. Sheilla designed a complete remodel, of course. She'd already helped design their contemporary Houston townhome in the late 1970s with its stunning open floor plan and huge windows that brought the parklike bayou setting inside. Sweet Meadow became Lala's school, where she taught granddaughters Alexandra and Sarah to drive using a golf cart, did art projects together, baked with grandson Cade, and fed family and friends wonderful meals.
Nourished by her father's artwork, Lala was also a painter, crafting soulful portraits and alluring landscapes that are proudly displayed in family and friend's homes. She turned events for family, friends and her husband's ad agency into special occasions, designing and building decorations.
Sheilla's energetic spirit is being carried on by her son and daughter, Mark Klein and Kristen Carreno, daughter-in-law Elizabeth Klein, plus three amazing grandchildren, Alex Carreno, and Sarah and Cade Klein. The family extends loving appreciation to Jean Edwards – Sheilla's friend, Cat Spring neighbor and co-conspirator for making events grand – and Mary Kay Brady for their support and friendship.
Please join Sheilla's family in celebrating a beautiful life at two o'clock in the afternoon on Wednesday, the 21st of December 2016, in the Jasek Chapel of Geo. H. Lewis & Sons, 1010 Bering Drive in Houston. Immediately following, all are invited to greet the family during a reception in the adjacent grand foyer.
In lieu of customary remembrances, Sheilla would have wanted help funding scholarships for budding advertising students. Memorial Contributions can be made to:
The Rich Klein Communications Scholarship
Advertising Education Foundation (AEFH)
P.O. Box 27592
Houston, TX 77227
Dinna Forget our Bonnie Scot!