Sher Ali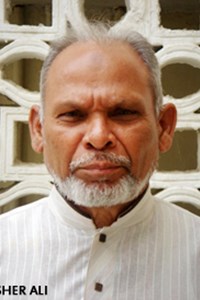 Mr. Sher Ali ID # 71939, passed away on December 06, 2015 in Karachi due to heart failure.
Inna Lilah-e-Wa Inna Alaihe Raje'oon.
He started his career in 1973 with Saudi Aramco, (Photo Lab) Media Production Department in Dhahran and completed his service by retiring with Saudi Aramco in the year 1998.
We pray that ALMIGHTY ALLAH rest his soul in eternal peace and shower His Blessing on him and blesses him with the highest place in Jannt-ul-Firdous, Ameen!
He was one of the Founder Member of Saudi Aramco Ex-Employees Association (SAEEA) and was the first Treasure of the association. Further he was the President of Anjuman Etahadmul Muslemeen Partabgarh Awadh, Karachi. He was running a charitable hospital under the banner of the association.
The Saudi Aramco Ex-Employees who attended the funeral are as follows:
Mohammad Abdul Matin
Muhammad Salim Hamid
Arif Qamar
Kaiser Alavi
Kifayat Ur Rehman
Ali Naqvi Roomy
Rahat Hussain Khan
Engr. Iqbal Ahmed Khan
Mr. Sher Ali survived with his wife Mrs. Sabra Khatoon and three sons Shahid Ali, Zahid Ali and Imran Ali, and five daughters namely Shahida Ali, Zahida Ali, Rabia Ali, Shazia Ali and Nazia Ali.
For condolence please contact Shahid Ali on +92-321-823-3510 or Zeeshan on +92-321-215-6072. You can also write a message on [email protected]
Office bearers of SAEEA request all the Members to remember Mr. Sher Ali in their prayers.