Shirley Sepejak Balazs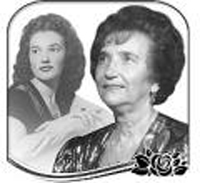 Shirley Sepejak Balazs was born on April 6, 1926 and passed away peacefully on March 14, 2018 at the age of 91. Shirley was a wonderful lady, a loving Mother and a proud Grandma, Nana and G.G.
Predeceased by her husband Steve Sr. (1984). Her love for her two sons Steve Jr. (2005) and surviving wife Linda, and Bill and wife Theresa was always unconditional. She treasured her grandchildren Angela (Dean), Amanda (Glen), Jeffery (Janet), Wesley (Kate) and Michelle (Sean). Close to her heart were her 14 great-grandchildren. Shirley is predeceased by her brother John (surviving wife Doreen) and sisters Mary (Steve), Betty (George), Helen (John), Ann (Michael) and sister-in-law Ann Kochish. She supported her husband and sons with the management of Aradco and Aramco. Shirley was actively involved with the Mindzenty Hungarian Culture Centre and with St. Anthony's Church where she cooked, baked and sang with the choir.
You will always be missed Mom and we will miss your precious three words, "I Love You." Visitation will take place at Windsor Chapel (Central Chapel), 1700 Tecumseh Rd. East, 519-253-7234 on Sunday, March 18, 2018 from 2-4 and 6-8 p.m. Prayers Sunday at 6:30 p.m. On Monday, March 19, 2018, relatives and friends are invited to meet directly at St. Vincent de Paul Church (2015 Balfour Blvd.) for Funeral Mass at 10:30 a.m. Interment to follow at Windsor Memorial Gardens Cemetery. In Memory of Shirley, memorial donations may be made to the Leukemia Society, Alzheimer Society or to The Downtown Mission.