Soraya Formby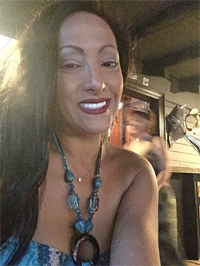 In Loving Memory of Soraya Formby: Soraya left us May 10th surrounded in love and friendship after a courageous battle against Cancer. Born in Cairo, Egypt, she was lovingly adopted and preceded in death by her adoring parents: Walker Gerald and Fahima Amen Formby. "Fifi Fathi Mohammed" became our beloved "Soraya" just as unique as her name, we celebrate her and a life full of adventure, extraordinary friendships, wit, humor, style and courage.
Those blessed to know her knew she had an infectious, gorgeous smile, exotic beauty from her Egyptian roots and a zest for life to include skydiving. Whether it be her passion for horses or her beloved pets she had multiple hobbies and passion in everything she did. From her Harley riding bad girl to the flower gardener and poet, she had a diverse array of talents and friends from all walks of life around the globe.
From her life in Saudi Arabia attending school in Dhahran or her boarding school experience at Stoneleigh-Burnham, she made friends wherever she went. After her time at Chaminade University in Honolulu, Hawaii and time at Denver Business College she graduated from Xenon International Beauty Academy in Aurora, CO excelling in being a hairstylist/artist for the past 15 years.
Always positive, creative and energetic she excelled at anything she put her mind to. She led an extraordinary life of travel and beautiful memories from skiing in Switzerland, adventures in the Middle East and her beloved beach time in Hawaii. She made diverse friends everywhere she went. She will be greatly missed and remembered by her Saudi Aramco "Brat" family and the multitude of beloved friends she made on her journey with us in a life very well lived. A Lifetime of remarkable memories and friendships, she was loved by many. Generous to a fault and even sometimes her own worst enemy she did things her way in only a way "Soraya" that unique exotic beautiful soul could.
A celebration of life will be held in Soraya's honor on Saturday, June 16, 2018, at 11:00 in the morning at Olinger Hampden Mortuary, 8600 E. Hampden Ave. Denver, CO 80231. A committal service will occur at Olinger Hampden Memorial Gardens at 12:00pm. Please join us in celebrating Soraya's life for a reception following the committal service at Olinger Hampden Mortuary.