Vera Bonfiglioli Briley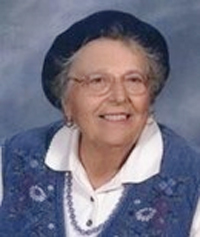 Vera Bonfiglioli Briley passed away peacefully at her home surrounded by her family on May 1, 2018. She was born on November 17, 1923 in Morro d'Alba, Ancona Italy to her parents, Nazareno and Cristina Bonfiglioli.
She moved to Rome with her family when she was a young girl and lived there for 20 years before marrying the love of her life, Dean M. Briley Sr. in 1951. They began their life together in Dhahran, Saudi Arabia where Dean worked for the Arabian American Oil company (Aramco). For the next 10 years, Dhahran was their home and it was where their 3 children were born.
She often said those were the best years of her life. They moved to Salinas, California in 1961. She made Salinas her home for the next 57 years. Interspersed in those years were many, many trips back to Italy to visit her relatives and stay connected to her Italian roots.
She lived through the Great Depression, WWII, and Vietnam War. She was alive when Amelia Earhart made her historic flight. She was alive when MLK Jr. gave his "I Have A Dream" speech. She lived in 5 countries: Italy, France, England, Saudi Arabia and USA.
She saw and experienced more than we can ever imagine in her 94.5 years of life. She told funny stories, made amazing pasta and homemade pizza like we've never had before.
Vera had a great passion for volunteer work. She found time to help the Sons of Italy, Cub Scouts, the school library and countless other organizations. She was a volunteer for 47 years at Natividad Medical Center where she gifted over 15,000 hours to serve the Volunteer Auxiliary's Mission. She was also an Italian language teacher at Hartnell Community College in Salinas, Ca.
She was a lover of hats and all things warm. She was so many things but most of all she was our mother, nona, nene, noni and great-grandmother. She loved life immensely and poured that love out on her family and all who crossed her path.
The source of this love came from her faith in Jesus. She had a special devotion to the rosary which she prayed daily, offering up the intentions of her family, friends and whoever or whatever was in need of prayer that day. She was a parishioner at Madonna Del Sasso Church for 57 years, a member of the Italian Catholic Federation and the Catholic Daughters.
We know she felt the love of her family, friends, and outstanding caregivers (Sue Valdez & Celeste Yap). We know she left this world peacefully. But the biggest thing we know is she left behind her legacy and a lifetime of love. Vera will be missed by so many.
Vera is survived by her sons, John (Kathy) Briley, Patrick (Barbara) Briley, Michael (Ann) Briley, and her step-son, Dean Briley Jr., granddaughters, Kristi (Tom) Botelho, Lindsay (Randy) Hicks, Amy (Matt) Broadley, Jenna Briley, Grace Briley, and Sherrie (Dana) Aldrich, and grandsons, Collin (Amanda) Briley, Timothy Briley, Matthew Briley, Patrick Briley, Craig (Bonnie) Briley, Darryl (Michelle) Briley as well as her great granddaughters, Ashley Botelho, Rosilyn Broadley, Reagan Briley and Dr. Julie Aldrich, and her great grandsons, Andrew Hicks, Vinny Botelho, Nolan Hicks, Daniel Broadley and Maverick Briley.
She is also survived by many relatives still living in Italy: her sister, Maria Medi and numerous nieces, nephews, cousins and great nieces and nephews.
She was preceded in death by her husband of 39 years in 1989, Dean M. Briley Sr., her daughter-in-law, Diane Briley, her parents, Nazareno and Cristina Bonfiglioli and her sister and brother, Luisa Gerino and Giuseppe Bonfiglioli.
Visitation will be 4:00p.m. to 7:00p.m. Monday, May 7, 2018 Struve and Laporte Chapel, 41 W. San Luis Street, Salinas, CA. 93901.
Rosary will be 7:00 p.m. Monday, May 7, 2018 Struve and Laporte Chapel, 41 W. San Luis Street, Salinas, CA 93901.
Mass will be 10:00 a.m Tuesday, May 8, 2018 Madonna Del Sasso Church, 320 E Laurel Drive, Salinas, CA 93906.
Garden of Memories, 850 Abbott Street, Salinas, CA. 93901 Tuesday, May 8, 2018 Internment following Mass.
In lieu of flowers, memorial donations may be made to Patient Care Services at Natividad Medical Center.
Donations can be sent to: Natividad Medical Center Volunteer Auxiliary, 1441 Constitution Blvd., Building #820, Salinas, CA 93906, Tel# (831) 755-4215.
Fly high Nene, fly high.
WE love you.
Funeral Arrangements by Struve and Laporte Funeral Home.