Virginia Balon
Longtime Ajijic resident Virginia Balon succumbed to pneumonia on May 18 at age 90.
Her background included working with the United States Foreign Service in the Washington, D.C. area, both before and after her extended tour with the Aramco oil company in Saudi Arabia.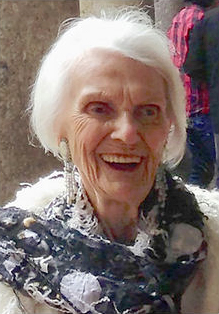 Many friends will remember Virginia for her love of modeling, dancing, music and the arts in general. She was gifted in music and easily recognized for her striking appearance. Her flair for couturier dressing, and choice of clothing and jewelry, made her a distinguished figure.
Virginia was a member and supporter of Viva La Musica, Lakeside Little Theatre, Democrats Abroad and the Lake Chapala Society.
She is survived by a brother, John Balon, of Petaluma, California. Lorena Barragan, her 20-year Mexican friend, wants everyone to know that she will miss Virginia very much as she helped her feel comfortable with the English language and was her inspiration.
La Bodega Restaurant has kindly offered the use of its space for a memorial on Tuesday, May 29 from 5-7 p.m., with music donated by Ricardo and Blanca. All of Virginia's friends are invited. Please bring a snack to share and your favorite beverage. Tips to the waiters are expected.
— First published in www.TheGuadalajaraReporter.net