William Dale Parsons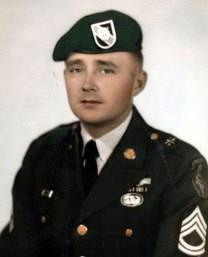 Capt. William Dale Parsons, Sr., 76, passed away on November 17, 2016 on Jekyll Island, GA. He was born in Chicago, IL in 1940, but considered himself a native son of Jonas Ridge NC.
Dale left Jonas Ridge and joined the Army in 1956. He served four tours of duty in Vietnam beginning in the 1960s. During his Vietnam tours, he was stationed with the 6th Special Forces Group at Fort Bragg and, as a Green Beret, served as a military advisor to Montagnards in the mountains of Vietnam and to other South Vietnamese troops in the Mekong Delta. During his career he served as UH-1 and OH-58 Pilot, Awards and Decorations Officer, and Fire Marshal, 50th Signal Battalion. He received over 250 awards for service. Some of the many badges presented were Expert Infantryman, Combat Infantryman, Master Parachute and Army Aviator. Medals earned included National Defense Service, Vietnam Service, Vietnam Campaign Air Medal, Vietnam Cross of Gallantry and two Bronze Stars. One of his proudest accomplishments was working with the 82nd Airborne Division. He retired in 1976 from The United States Army with the rank of Chief Warrant Officer 2 after 20 years of faithful and honorable service.
During his long life he has called many states and countries home. Upon his retirement from the Army in 1976, he was hired by Petroleum Helicopters, and went to work for ARAMCO Oil Company in Ras Tanura, Saudi Arabia. While working for ARAMCO he met and married his best friend Pat Norris. In 1989, he left Arabian Helicopters and returned to the United States. After a year of working in Alaska with the Valdez oil spill he and his family moved back to Saudi Arabia where he worked for Petrol Air and the Saudi Royal Family in Jeddah. He served as a private pilot for King Fahd during this period.
Upon retiring from aviation and returning to Jekyll Island, Dale was a consummate father and grandfather. His favorite pastime was studying languages. He studied landscape design and served as a tour leader of indigenous plants to Jekyll Island. Dale was adamant about physical fitness and was a certified instructor. He loved watching the cooking channels and learned to cook gourmet dishes.
Dale was proceeded in death by his parents Ernest and Mary Belle Cook Parsons of Jonas Ridge, NC. Two sisters; Mary Anne Parsons Laracuente, New York, Ernestine (Tina) Parsons, Morganton, NC. His eldest son William Dale Parsons, Jr., Hickory, NC.
Dale is survived by his wife Dr. Patricia Norris-Parsons, Jekyll Island, GA; former wife, Judy Bullock Parsons, Hickory, NC; daughter Kendria Parsons Sweet (Cliff), Charlotte, NC; son Braxton Parsons, Atlanta, GA; and, daughter in law Karen Campbell Parsons, Fountain Inn, SC. Dale had three grandsons; Ian Parsons, Fountain Inn, SC; and Ryan and Connor Sweet, Charlotte, NC. Three sisters Judith Cattanach (Mike), Asheville, NC; Suzanne Parsons, San Francisco, CA, and Katherine Sorenson (Scott), Tiburon, CA. He is also survived and will be missed by many nieces, nephews, cousins, great nieces, and great nephews.
Grave side rites and interment were held at Jonas Ridge Methodist/Baptist Cemetery, Jonas Ridge, NC, Saturday, November 26, 2016 at 11:00 AM with full Military Honors.
Honorary pallbearers were Braxton Parsons, Ian Parsons, Connor Sweet, Ryan Sweet, Dennis Simmons, Nathan Simmons, Scott Sorenson, Scotty Sorenson, Mike Cattanach, Brian Cattanach, Bart Cattanach, Cliff Sweet, Alex White, Dr. Joseph Lanzone, Frank Pole, Myles Stevens, Denny Finlon and Van Walker.
The family requests that in lieu of flowers, donations be made to the Georgia Sea Turtle Center, 214 Stable Rd, Jekyll Island, GA 31527.