William Evans Bartz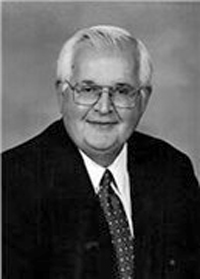 William Evans Bartz (Bill), 83, of Hammondsport, NY passed away peacefully at home on May 31, 2018. Born in Wayland, NY on May 27, 1935, the son of Gordon Allen and Lavinia Evans Bartz. The family moved to Bath, NY two years later where they lived in the then thriving community for several decades. Parents and son, Bradley Edward Bartz, predeceased Bill.
Bill is survived by his loving wife of 58 years, Martha Jones Bartz of Hammondsport, NY; son William Evans Bartz Il of Austin, Thi sisters Joan (Carl) Kammire of Cary, NC and Anne Bartz of Hammondsport, NY; grandsons William Evans Bartz Ill of Denver, CO and Bryan Bartz of Keller, TX; granddaughters Elizabeth (Beth) Bartz of Austin, TX, Allyson Bartz and Margaret (Maggy) Bartz of Keller, TX and Jillian Bartz of Phoenix, AZ, as well as numerous nieces and nephews.
Bill graduated from Haverling High School in Bath, NY in 1953 where he was active in band, sports, and the senior play when he recited "Casey at the Bat." Until his passing, he was able to recite that passage to the delight of audiences. The early exposure to many music genres at Haverling remained a special delight throughout his years, ranging from Sousa marches to classical favorites. Also, Bill always cherished his memories of attaining the rank of Eagle Scout with the Bath boy scouts. In 1957, Bill graduated from Rensselaer Polytechnic Institute in Troy, NY with a B.S. in Geology and was a member of Sigma Alpha Epsilon Fraternity. Graduate work was at the University of Michigan and Wharton School of Finance. In 1960, Bill married his Southern Belle, Martha Ann Jones, of Raleigh, Mississippi.
As a lifelong geophysicist, Bill held numerous positions with the Chevron Geophysical starting in 1957. As an early field geophysicist in Montana, Bill was the company's last geologist on a horse. Bill often reminisced about his adventures on "Blaze." Job demands led Bill and his family to several locations in Texas, California, Colorado, as well as world-wide travel. In 1985, while a vice-president of Chevron Oil in Houston, TX, Bill was credited to have discovered a new Mersenne Prime number of 165,000 digits. This was accomplished on a new Cray X-MP supercomputer. At the time, Bill commented that the results were interesting, but it didn't help him find any oil!
Bill's profound expertise in geosciences and information technologies led to Bill's "loan" to Saudi Aramco in Dhahran by Chevron Geophycical from 1980 to 1984 in order to build and develop the Aramco geological computer center. In later years he was the Vice President of the Chevron Oil Computer Center in San Francisco. After his retirement from Chevron Oil in 1993, Bill served as President and CEO of Petrochemical Open Software Corporation, a not for profit global oil consortium of suppliers, universities, and government agencies responsible of setting standards for the sharing of Saudi Arabia Aramco's exploration and production.
Bill was a member of the Hammondsport Methodist Church and served on the Board of Trustees. Prior to moving to Hammondsport, NY he was a member of the Austin, TX Methodist Church and Austin Country Club. Also, he was a former active member in the Society of Exploration Geophysicists, American Association of Petroleum Geologists, and Society of Petroleum Engineers.
In 2000, Bill and Martha settled in the village of Hammondsport, NY. Bill found much comfort in being near Keuka Lake with fond memories of the family cottage on Willow Point and other locations from 1940 through 1990. Bill took an interesting job in the tasting room of the award-winning Dr. Frank's Winery. A large group of followers was acquired by Bill as he easily espoused his wine witticisms driven by his immense knowledge and passion. Admittedly, this was his most favorite job of all!
Bill will be dearly missed by his family and friends for his ultimate role of grand patriarch. Love of debate and the ability to dispense direction on all life issues will make Bill simply irreplaceable.
A memorial service will be held at the Hammondsport Methodist Church on Thursday, July 12th at 2:00 p.m. with Pastor Paul Rowley officiating. Funeral arrangements have been made by the La Marche Funeral Home. Burial will be at the Nondaga Cemetery in Bath, NY. In lieu of flowers, donations may be made in Bill's memory to the Hammondsport Volunteer Ambulance, 72 Pulteney Street, Hammondsport, NY 14840.