William Hamilton Fairlie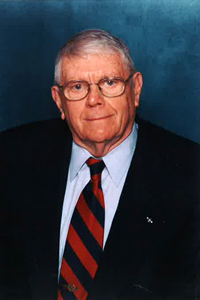 William "Bill" Fairlie was born June 8, 1927 in Hoboken New Jersey. He was raised in Cliffside Park, NJ and attended Cliffside Park High School, graduating in the Class of 1945. He went on to serve his country in the U.S. Navy during the end of WWII. Bill then started his career by attending the Academy of Advanced Traffic and began working for the Arabian American Oil Company  (now Aramco Services) in 1950.  In 1952, he and Rose DeFilippis married and they had two daughters, Susan and Allison.  The family was transferred to Dhahran, Saudi Arabia in 1956.
While in Saudi Arabia, through hard work and dedication, Bill achieved the position of Superintendent of Traffic Operations.  Work was not all he did.  He was Boy Scout Master for 12 years.  He received the Silver Beaver for distinguished service to Boyhood through the Boy Scouts of America. Activities in his church as lector and usher rounded out his busy days.
Bill and his family were transferred back to Houston in 1977 and chose Kingwood as their home. He retired in 1986 but Bill remained active in his church, St. Martha Catholic Church as an usher, and a hard worker as a volunteer in Martha's Kitchen (the Tuesdays Group), a soup kitchen in downtown Houston.
Bill loved nature and all outdoor activities, especially hiking – even in the desert. His girls will always remember him as a fun and loving father.
A Funeral Mass of Resurrection will be celebrated Saturday, July 2, 2016 at 11:30 A.M. at St. Martha Catholic Church. A Reception with lunch will be served in the Gardens of Darst Funeral Home.
Darst Funeral Home
796 Russell Palmer Rd.
Kingwood, TX 77339