Boarding at Admiral Farragut Academy
At Farragut, our boarding students work hard to be successful. Not only do they benefit from faculty with decades of experience in their respective fields, but they also get to choose from signature programs that separate Farragut from other boarding schools.
Choose Your Interest
Whether it's Aviation, Engineering, Leadership, Marine Science, Naval Science (NJROTC) or Scuba, day and boarding students at Farragut create a foundation hard to find anywhere else.
Learn to Lead
Another unique aspect of Farragut is the way our students — also known as cadets because we are an honor naval school — thrive in the structured atmosphere. They understand that you have to listen to learn and follow to lead, and they often earn leadership roles within the regiment.
Confident for College
Every year our graduates earn over $5 million in academic and athletic scholarships and attend universities like Stanford, Miami, and UCLA. Our students also have opportunities to receive nominations to the Naval Academy, Military Academy, and Air Force Academy. Our boarding students are ready for college because they have lived in a culturally diverse environment and become independent by being away from home.
Friends and Faculty Who Become Family
When we ask our students to describe Farragut in one word, many say "family" and it's true. Classmates are also study partners, roommates, hallmates, and best friends. Boarding students often go home with day students, and day students are found on campus after school hours. Since our students come from all over the world, sharing cultures and languages is prominent around campus. When school's out for summer, friendships to continue to grow. Our students visit each other's homes throughout Florida, the United States, and around the world.
Work Hard, but Relax Too
Our students take pride in their academic standing, but they also know how to be well-rounded. The spacious dorm rooms shared by one or two others allow boarding students to unwind after a busy day of school and extracurricular activities.
Discover St. Petersburg, Florida
Farragut is situated on the waterfront in one of the most picturesque places you will ever find. St. Pete Beach — which is minutes away by car or bicycle — is routinely ranked by travel magazines and websites as one of the top vacation spots in the United States. Having a campus with a waterfront — with sailboats, paddleboards, kayaks –, indoor and outdoor basketball courts, an outdoor pool, tennis courts, athletic fields, and a student center gives boarders a plethora of fun opportunities to choose from.
Boarding School Food (You'll Actually Want to Eat)
A home away from home wouldn't be complete without home-cooked meals. With a dining staff professionally trained in culinary – breakfast, lunch and dinner can't be topped. Omelettes prepared the way you like. A salad bar with an endless selection of toppings. Themed dinners like roll-your-own sushi nights (pictured). An assortment of different desserts each day of the week. We ensure you'll always find something you'll like.
Summer Boarding Program
[email protected] is a unique two-, four-, or six-week summer boarding camp experience for teens entering 8th-12th grade. Attendees take academic courses, some for high school credit, and fun elective courses during the day. At night and on weekends they do fun activities like game night, kayaking and paddleboarding at the waterfront, or swimming at the pool. Weekly all-day excursions include trips to theme parks, zipline courses, white water rafting, and more.
Mission Statement: Admiral Farragut Academy provides a college preparatory environment to grades PreK-12 that promotes academic excellence, leadership skills, and social development within a diverse community of young men and women.
Core Values: Integrity, Self-discipline, Perseverance, Wellness & Fitness.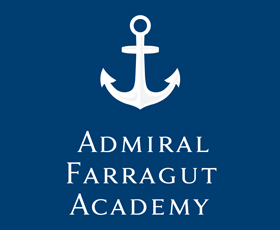 501 Park Street North
St. Petersburg, FL 33710
727-384-5500 ext 220
E-mail: [email protected]