Adele LaBrecque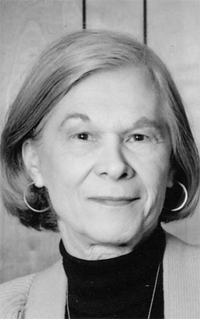 Adele LaBrecque during her nearly 94 years studied art at Black Mountain College in North Carolina, danced the flamenco in New York City, and journeyed to Dharan, Saudi Arabia, as a single woman in the 1950s to work in public relations for Aramco Oil Co.
She was just getting started. From there, she married Maurice LaBrecque, who she met in Dharan, had two sons – Louis and Mark – and lived in Tripoli, Libya, from 1966 to 1984 during a time of immense change in the country. The family traveled widely, and Adele immersed herself in her art, whether it was painting scenes of everyday life in Saudi Arabia or filming and acting as editor and producer of homemade documentary films in both Saudi Arabia and Libya.
Adele and Maury moved to Winston-Salem, N.C., after leaving Libya, following Maury's retirement, and Adele ultimately worked in Wake Forest University's alumni office until her own retirement in early 1999, more than nine years after her husband's death in December 1989. At that point, she headed to Santa Fe, a place where she felt completely at home.
Volunteer work was a given for Adele, and she put her talents to use at a variety of organizations, including the Santa Fe Opera and the Lensic Performing Arts Center. Adele continued to paint and found a wonderful group of friends who enriched her life.
Adele was born in New York City and is survived by her sons, Louis and Mark, Louis's partner Marcela Gaitan, Mark's wife Phoebe Zerwick, and her grandson Jackson. Adele's cremains will be buried next to Maury in the veteran's cemetery in Black Mountain, N.C. A memorial celebration will be held in Santa Fe for all of Adele's friends once Covid restrictions are lifted.